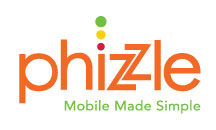 "Jeff, Mike and Jeff bring to Phizzle a wealth of experience in account management and an overall passion for digital media that strengthens our ability to offer strategic solutions to meet our clients' needs," said Phizzle CEO, Ben Davis
San Francisco, California (PRWEB) November 02, 2011
Phizzle, Inc., a mobile marketing and mobile advertising provider delivering audience engagement solutions to grow fan loyalty and increase customer revenues, today announced the expansion of its management team with the appointments of Jeff Ryznar, Jeff Lillibridge and Mike Maleski. The three executives will be spearheading Phizzle's newly-created digital marketing division offering customized mobile marketing campaigns using traditional and new media assets to impact an organization's bottom line and to influence relationships with current and new customers through digital channels that have not been typically addressed.
After years of providing the Cleveland Cavaliers, Lake Erie Monsters and Quicken Loans Arena - all of whom are among Phizzle's roster of clients - with social media development, strategic digital marketing campaigns and monetization tactics, the trio will now open Phizzle's Cleveland office. They will be responsible for developing digital marketing strategies to uniquely leverage mobile, web, m-commerce, broadcast, text and social media to maximize revenue capabilities for Phizzle's customers, including globally-based professional sports teams and Fortune 500 brands.
"Jeff, Mike and Jeff bring to Phizzle a wealth of experience in account management and an overall passion for digital media that strengthens our ability to offer strategic solutions to meet our clients' needs," said Phizzle CEO, Ben Davis. "Over the course of the past several years, Phizzle learned a great deal in working together with the Cleveland Cavaliers and Jeff, Mike and Jeff as our customer. Now we will leverage their successes from the Cavaliers, particularly in regards to generating incremental revenue from mobile media, and transfer that knowledge base to our top-tier clients. I am thrilled to welcome all three to our rapidly-expanding Phizzle executive team."
"The opportunity to help Phizzle's clients realize largely untapped digital marketing opportunities is wide open," said Phizzle's Senior Mobile and Marketing Consultant, Jeff Ryznar. "With Jeff, Mike and I on board, Phizzle now offers an unmatched, professional digital marketing service with web, marketing and sales expertise soundly ensconced in professional sports. We are excited to join the Phizzle team and partner with leading brands to build deeper relationships with fans in the digital age."
Executive Backgrounds
Jeff Lillibridge – Senior Digital Strategist
Jeff Lillibridge joined the Cleveland Cavaliers/Quicken Loans Arena as Web Operations Manager in September 2004. He spent the previous six seasons with the Detroit Pistons/Palace Sports & Entertainment, working in ticket sales and new media.
After joining the Cavaliers, Jeff helped cavs.com achieve the #1 NBA team ranking according to the Sports Business Journal in August of 2005. In September 2006, he was promoted to Director of Web Services. He was instrumental in the launch and success of theQarena.com, LakeErieMonsters.com, and CavFanatic.com. At Phizzle, Jeff will be overseeing social network efforts, digital marketing campaigns and online corporate partnerships.
Jeff Ryznar – Senior Mobile and Marketing Consultant
As the Director of Strategic Marketing for the NBA team, the Cleveland Cavaliers, Jeff brought more than eight years of experience in developing marketing and advertising programs to strengthen and elevate the awareness of national brands with customers.
At the Cleveland Cavaliers, Jeff was responsible for developing, collaborating and executing marketing campaigns to increase brand awareness and sales while implementing new technologies to streamline business processes and enhance fan engagement. He was at the forefront of the creation of their mobile marketing platform using Phizzle's platform, as well as in the creation of an innovative Season Ticket Holder Campaign centered on the roll-out of personalized URL's for ticket holders. He was responsible for the research and development of strategies that went behind the Cavaliers marketing efforts, as well as ticket sales and corporate partnership initiatives. Prior to the Cleveland Cavaliers, Jeff was the Regional Account Supervisor for Lowe Worldwide/Martin Jay Advertising, where he oversaw the Buick/Pontiac and GMC local marketing groups and was responsible for the advertising operations of 16 dealer groups and over $18 million in media billings.
Mike Maleski - Senior Director of New Media Sales
Mike Maleski was formerly the director of new media sales for the Cleveland Cavaliers and has more than 19 years of experience in the print and online publishing industries. Having joining the Cavaliers in March 2008, Mike worked to lead Cavs.com's transition from a rotational format to the NBA's first impression-based ad sales platform. During that time he has effectively monetized the team's social network, CavFanatic.com, by integrating site sponsor Verizon into the fabric of all site objectives and by teaming corporate partner offline promotions with online activation and efficiencies.
For his work with the Cavaliers, Mike was named one of the NBA's most influential executives of change by Sports Business Journal. Mike increased the number of Cavaliers corporate partners who use online elements in their advertising plans from 20 to more than 100 and the number of partners with online investments higher than $25,000 from two to 45. Mike and the Cavaliers were the first NBA team to effectively monetize the team's presence on Facebook and Twitter. As the director of retail sales for Cleveland.com in 2006 and 2007, Mike led the retail-based print and online sales initiatives, designed to offer The Plain Dealer advertisers a balanced plan of traditional and new media promotional tools. During those years, Cleveland.com achieved unprecedented site expansion with record display ad sales revenue, new email and mobile platforms, as well as significant growth in site traffic. The Waynesburg College (Pa.) graduate began his career as an intern at Douthit Communications in 1991, working his way up to general manager of WeST LIFE newspaper by 1999. His work with Great Lakes Publishing began as a member of the sales staff in April 2002, and he quickly rose to the position of Inside Business Magazine Publisher in December 2003. During his years as publisher of Inside Business, Mike guided the magazine to dozens of industry awards, numerous successful custom publishing partnerships and record sales growth.
About Phizzle:
Phizzle is a mobile marketing and advertising provider delivering audience engagement solutions to grow fan loyalty, increase customer revenues and harness brand equity. Partnering with digital and media agencies, publishers, wireless carriers and brand advertisers, Phizzle delivers effective mobile marketing programs to enable audience relationship management.
With extensive industry experience servicing national sports franchises such as the New York Knicks, Cleveland Cavaliers and Philadelphia 76ers; entertainment venues such as the Madison Square Garden, broadcast companies such as Fox Sports Net, retail establishments such as Westfield Shopping Centers, restaurant chains such as Papa's Murphy's and mobile carriers, Phizzle is the provider of choice to boost mobile marketing programs. For more information, please visit Phizzle at http://www.phizzle.com or call 1_877-PHIZZLE (744-9953).
Phizzle Media Contact
Beth Trier
VP, Marketing Communications
btrier(at)phizzle(dot)com
415-285-6147
###