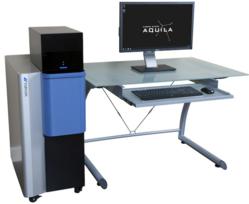 Santa Clara, CA (PRWEB) November 04, 2011
Nanounity announces that the University of South Florida has purchased and successfully accepted the Topcon Aquila Compact SEM. The Aquila is a compact system that seamlessly integrates SEM with optical microscopy, and energy dispersive spectroscopy (EDS). The system bridges the gap between SEM, optical microscopy and microanalysis.
The system was selected by the electron microscopy facility in the Department for Integrative Biology. The facility provides microscopy services to all research departments at the University of South Florida, as well as companies and institutes in the greater Tampa area. The Topcon Aquila was chosen over tabletop SEMs and benchtop SEMs because of its ease-of-use, unique integration of SEM and optical microscopy, and advanced features normally found in more expensive full size SEM systems.
About Nanounity
Nanounity is a sales and distribution company, specializing in nanoscale imaging and analysis instrumentation, servicing and supporting research and engineering at universities, government laboratories, and industrial companies. Product offerings include Atomic Force Microscopes, Scanning Electron Microscopes, Stylus and Optical Surface Profilometers. More information about the company can be found at http://www.nanounity.com.
# # #