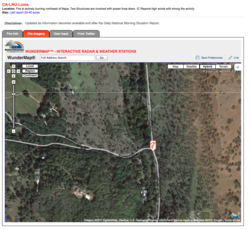 Evacuations are still in place for Loma Vista Road, and Soda Canyon Rd
Napa, CA (PRWEB) November 03, 2011
On Tuesday evening, while residents of the Soda Canyon area northeast of Napa began to settle down, flames erupted in the neighborhood. The Loma Fire broke out around 8:30 pm on Tuesday evening. The fire is reported in the area of Loma Vista Road and Soda Canyon Road at the base of Atlas Peak.
On Monday, the National Weather Service released a Fire Weather Watch for Lake County, Napa County, and the Sonoma County area. The warning predicted drier then normal humidities and strong winds out of the North. Winds out of the North are usually a accompanied by hotter and drier temperatures. This is a firefighters greatest fear.
This October, FireWhat Inc. of Dunsmuir CA partnered with tech company Pusher Inc. to develop a state of the art Wildland Fire App. The application compiles emergency, weather, and fire data, and displays the info user friendly format. The application received rave reviews at the recent Reno Fire Show. The attendees of the Reno Fire Show commented on the applications ability to broadcast life safety information at the touch of a button to responders, residents, and commanders.
As of 11:00 pm on Tuesday night, CalFire reported the fire was approximately 15-20 acres in size and the residents in the area were still under evacuation order. Several incidents due to strong gusty winds have knocked out power, downed trees, and placed the Napa Valley Firefighters on high alert.
About FireWhat Inc.
FireWhat Inc. is a start-up company founded by an MIT grad and two professional firefighters. FireWhat's mission is to provide a professional platform that inspires the highest quality of emergency service training and education. Through development of web and mobile products, FireWhat Inc. seeks to update the antiquated delivery of emergency services training and to incorporate innovation into a technology-deprived industry.
###