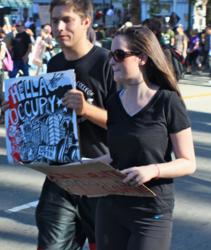 Sonoma, CA (PRWEB) November 02, 2011
As the "Occupy" movement gains momentum across America, photographer Vance Petrunoff brings the true essence to the American public with spot-on images that capture the raw spirit of the movement. His photographic essays document "Occupy" from coast to coast, covering Wall Street, Oakland, Seattle, San Francisco, Sonoma and even radical Berkeley. Petrunoff offers a raw, ground level view of what was actually happening. His images depict the participants, their purity and their devotion to the movement, contrary to what appears in the media.
Petrunoff was in Oakland both before and after the police raids. His pictures serve insight to the media's depiction of this event, and he clearly gives photographic proof to differ.
"I read a story on AP that said that the Oakland "Occupy" was dirty and rat-infested," reports Petrunoff. "That was one reason for the raid. It wasn't my experience at all. I documented a well-organized, clean event with well-thought waste collection and recycling centers. I saw no rats."
Petrunoff's images may be seen at http://vancepetrunoff.zenfolio.com/.
"It's amazing how the national media is depicting these events," says Petrunoff, who is no stranger to censorship. "It's like they weren't even there."
Petrunoff's images capture the core of "Occupy." He has elected not to focus on the oddities, but the mainstream of the movement. Additionally, he has displayed his images from prior events at current "Occupy" venues. His art has been extremely well received.
The "Occupy" events hit very close to Petrunoff, who defected from Bulgaria in 19XX. He witnessed the fall of Communism and the Berlin Wall, and continues his work in America.
Petrunoff is planning a national exhibition of his work, displayed in select cities around America.
# # #