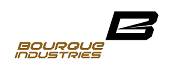 "With these testing results officially on the record, the discussion about multi-impact body armor is now over," said John M. Bourque, the inventor of Kryron Terminator Armor and the CEO of Bourque Industries.
Tucson, Ariz. (PRWEB) November 02, 2011
The body armor industry will never be the same. Backing up the claims about their revolutionary personal-protection Kryron Terminator Armor in remarkable fashion, Bourque Industries, Inc. (OTC:BORK) today released the results of the Company's recent National Institute of Justice (NIJ) testing at Oregon Ballistics Laboratory where they shattered current industry standards on their way to their overwhelming success in Level III stand-alone armor evaluation.
Bourque's Level III stand-alone Kryron Terminator Armor System became the first armor in the history of NIJ testing to defeat all six 7.62x51 FMJ NATO rounds within the 44mm back face deformation standards. And Bourque didn't reach this unheard of milestone only once, but repeated the performance on all four Level III armor plates tested, establishing a level of protection unmatched worldwide.
Even more amazingly, one of the panels was actually tested backwards and still stopped all six bullets within the standard back face deformation. This means that Bourque Industries has the only true multi-impact personal body armor on the market, as well as the only armor that can be shot both directions with no impact on ballistic protection.
"With these testing results officially on the record, the discussion about multi-impact body armor is now over," said John M. Bourque, the inventor of Kryron Terminator Armor and the CEO of Bourque Industries. "It is simply unacceptable to allow our men and women in uniform who protect our children and families to wear armor that is actually designed to fail after only two bullets when Kryron Terminator Armor is readily available and is guaranteed not to quit when our police officers need it most."
Kryron Terminator Armor also provides additional advantages that are essential for the survivability of law enforcement personnel. Terminator armor eliminates ricochet and spall – shrapnel from the bullet and armor, respectively – and the related casualties because Kryron armor works by catching bullets instead of shattering and deflecting them. Ricochet and spall account for nearly half of all injuries resulting from a bullet impacting traditional ceramic hard armor plating.
The Kryron Terminator Armor Level III stand-alone system is currently completing the standard inspection portion of the NIJ testing protocol. After the standard review period of 30-90 days, the armor will be certified and be able to be purchased by law enforcement agencies using federal grant monies. The Level III stand-alone system is available for purchase immediately for all other military and law enforcement customers.
About Bourque and Kryron
Bourque Industries, Inc. is a publicly-traded company (OTC: BORK) based in Tucson, Ariz. Bourque holds all patents for Kryron-based technology.
Kryron is a patented, state-of-the-art metal alloying process that results in the creation of metal super alloys that have broad uses across a range of industrial segments. Management believes Kryronized aluminum is the optimal material for ballistic armor plates. Compared to industry-standard personal protection ceramic plates, Kryron Terminator armor is far more durable and eliminates spall and ricochet.
Bourque Industries, Kryron, and Terminator armor are trademarks of Bourque Industries.
Contact
Bourque Industries
Andrew Myers, 520.981.6207
This communication to shareholders and the public contains certain forward-looking statements. Sometimes these statements will contain words such as "believes," "expects," "intends," "should," "will," "plans," and other similar words. The events described in these forward looking statements are not certain to occur. These statements are only predictions and involve known and unknown risks, uncertainties and many factors beyond our control. Although forward-looking statements, and any assumptions upon which they are based, are made in good faith and reflect our current judgment, actual results could differ materially from those anticipated in such statements.
###