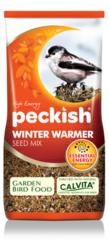 The perfect product for bird feeders during the winter months
UK (PRWEB UK) 3 November 2011
The Peckish wild bird food range is delivering the essential feed for all birds this winter with its brand new Winter Warmer seed mix.
A bird's natural food resources are low at this time of year, and so a helping hand is needed. Peckish Winter Warmer seed mix has been specially developed to deliver a high energy feed full of oil rich energy seeds. This will ensure that wild birds can have more choice should their natural food sources become less available. Peckish Winter Warmer is a unique blend of eight types of seed, all of which have been carefully selected to deliver energy to garden birds during the coldest of winter months.
Peckish Winter Warmer and the various Peckish wild bird food mixes have the added benefit of its unique Calvita supplement. Completely distinctive to the Peckish range, Calvita is a nutritional combination of essential vitamins, calcium and carotenoids, which delivers that extra something special to a birds diet, making it a must have for all bird feeders.
Keith Nicholson, Marketing Director of Westland Horticulture said, "Peckish Winter Warmer seed mix will deliver the perfect product for bird feeders during the winter months. Consumers can be confident they are providing a high energy and fat rich feed that will provide the necessary supplementary feeding, exactly when birds need it the most."
The Peckish wild bird food products will be promoted on televisions across the UK and Ireland on all mainstream channels from 7th November 2011 with its unique advert featuring the voice of British comedian Matt Lucas.
For further information about Winter Warmer and the whole of the Peckish range visit http://www.peckishbirdfood.com.
###