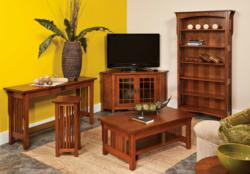 "Our goal with this event is to continue to show the local community that our furniture is still a great option for them."
Shipshewana, Indiana (PRWEB) November 03, 2011
On November 4 and 5, the Michiana Event Center ("the MEC") in Howe, Indiana will host the Second Annual Holiday Gift and Craft Show. Weaver Furniture Sales, a local Shipshewana Furniture store will once again sponsor the event along with KPC Media Group and 95.5 The Hawk radio station. The show will feature many Amish Country businesses all geared toward helping shoppers find Holiday gifts and crafts to coincide with the start of the 2011 Holiday shopping season. Food and beverages will be available at The MEC concession stands during the entire show.
As an event sponsor Weaver Furniture Sales will prominently display its handcrafted Amish Furniture and other Indiana made furniture at the event. Visitors will be able to see a variety of furniture including the popular mission furniture offered by Weavers, enter to win Free Prizes offered by Weavers and other vendors and experience many Show Specials and coupons available only at the show.
"Our goal with this event is to continue to show the local community that our furniture is still a great option for them," stated LeRoy Weaver, owner.
The show will feature a "Scraptacular" scrapbooking event and include vendors offering items such as furniture, bird houses, home accessories, gift items, rugs, pillows, jewelry, patios, herbs, and fabrics just to name a few. Show hours are Noon to 8:00 pm on Friday and 9:00 am to 5:00 pm on Saturday. Admission is $5 for adults and children under 12 are free.
With more than 145,000 square feet of space, The MEC is well suited for many different types of events such as home related shows, furniture shows, equine events, tournaments, gun and knife shows, camping and rv shows, wedding parties and more. For more information about this event and The MEC visit michianaevents.com.
About Weaver Furniture Sales:
Weaver Furniture Sales was established in 1989 in Shipshewana, Indiana, and is an Amish, family-owned furniture business that offers a full line of solid wood, Amish Furniture at affordable prices – for both residential and commercial purposes. As part of their client services, Weaver Furniture Sales provides furniture design consultation services, custom furniture options, furniture quotes, layaway options and various delivery alternatives for residences and businesses in the United States from their quiet country showroom in Shipshewana, Indiana.
LeRoy and Ida Weaver have owned and operated Weaver Furniture Sales for over twenty-two years, beginning with a 1,500 square foot showroom and expanding to over 15,000 square feet today. Previously, they owned and managed LeWana Dairy Farm where they milked cows and raised corn and hay.
###