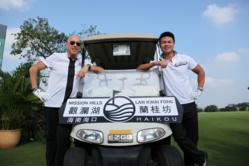 I am confident this new landmark will further solidify Haikou's increasing dynamic role as an unparalleled leisure and entertainment paradise
Haikou, Hainan, China (PRWEB) November 03, 2011
The "World's No.1 Golf Club" MISSION HILLS and world-renowned lifestyle and entertainment brand LAN KWAI FONG together announce their first-ever partnership to build a new destination in Haikou, the capital of Hainan Province. Located at Hainan Island which is dubbed as "the Hawaii of China", Mission Hills • Lan Kwai Fong • Haikou is a five-star project featuring not only world-class golf facilities but also lifestyle, shopping, entertainment, dining and cultural elements. The project is expected to open by the end of 2013
"With lifestyle and fashion elements injected into this new project by Lan Kwai Fong, visitors can now immerse themselves in a myriad of shopping, entertainment, dining and cultural activities while enjoying premier golfing experience in a world-class venue. It will definitely double the fun and is truly a 'whole-in-one'!" said Dr Ken Chu, Chairman and CEO of Mission Hills Group. "I am confident this new landmark will further solidify Haikou's increasing dynamic role as an unparalleled leisure and entertainment paradise."
Each being leaders in their respective industries, this partnership between Mission Hills Group and Lan Kwai Fong Group is a perfect synergy of the two dynamic Hong Kong brands which have gone from strength to strength. It is testimony of how truly great partnerships, sparked by creativity and a strong vision, can create infinite possibilities and conceive an exciting new lifestyle destination.
Mission Hills • Lan Kwai Fong • Haikou adjoins with the Mission Hills Haikou International Golf Resort opened last year. With a total development area of 240,000 square meters, the new project features six key development highlights --- a "Lan Kwai Fong Entertainment Zone" which is the second genuine Lan Kwai Fong in Mainland China (following Lan Kwai Fong Chengdu); "The China Grove" which brings an open-air mixed-retail shopping environment; the "Fashion Avenue" offering a high-end shopping experience; the "Village Lane", an area with interesting local, ethnic elements; the "Quarry Lake" featuring a symphony of water shows with sound and lights and last but not least, the project will also feature international five-star and design boutique hotels catering different customer segments.
"I can feel the great potential of this wonderful city Haikou; not only is it the economic and development hub of Hainan, but it also has dazzling natural scenery. There is a beautiful Quarry Lake on our site where we will bring exciting water shows, as well as themed events in the central plaza injecting energy into this place. I am confident that our project will become a must-go leisure and entertainment hotspot for locals and tourists all over the world." said Dr Allan Zeman, Chairman of Hong Kong's renowned Lan Kwai Fong Group and Ocean Park.
Following its opening last year, Mission Hills Haikou International Golf Resort has quickly developed into a world renowned golfing and leisure magnet. Apart from this newly-announced joint project with Lan Kwai Fong Group which takes up part of the site, the entire Golf Resort comprises of ten 18-hole championship golf courses designed by Schmidt-Curley Design. Other highlights include a world-class luxury hotel already in operation with 518 spacious guest rooms and suites, premium clubhouse, an outdoor water-theme part, Asia's largest mineral-rich natural springs reserve and esteemed spa facilities.
###