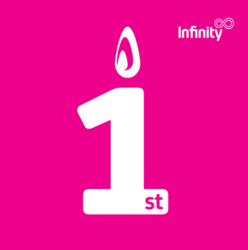 Infinity really understand our sector and the challenges we face with tracking calls. They are more than just a call tracking company they are a strategic partner.

Jos Dewing, Director of Online, All Leisure Group
Surrey, UK (PRWEB UK) 16 November 2011
Exactly a year ago Infinity Tracking launched a next generation solution for tracking phone calls from websites that has been adopted by three of the largest international travel brands, and they are looking to further dominate the marketplace in the next year. As a celebration they have had hundreds of cupcakes made, and are sending them out across the country. The cakes, iced with the company's logo, will be sent out to key clients and friends. That is, if any of the delicious treats actually find their way out of the company's head offices.
"Last year we set ourselves the task of creating the only solution that could help travel businesses track their customers from the web through the phone and into the call centre." says company founder Paul Walsh, "Our goal was to give travel companies an unsurpassed way of judging ROI for their marketing spend across various channels. We wanted to help them close the marketing loop. And in a year we've done that. So we thought we'd celebrate."
The innovation that Infinity made was to realise that telephones are an important part of the way many holidays are booked. More often than not, customers want to pick up the phone to discuss travel arrangements and holiday bookings, especially in the luxury travel market. Understanding how online marketing has driven people to pick up the phone is a key challenge facing travel companies.
Their call tracking solution solves the problem of gauging ROI on a marketing spend by providing a full understanding of what marketing channels are having what effects on consumers, even down to which exact search terms have driven people to make telephone calls. The Infinity system can even take feeds from a CRM or booking system, so their clients can understand the true ROI of their marketing channels, and can use that information to make more informed marketing decisions.
Within a year of their launch, Infinity have established themselves as a market leader with an innovative and exciting product. Infinity are showing that, with some skill, invention, and dedication, it might be possible to have your cake and eat it after all.
ABOUT INFINITY TRACKING: Infinity Tracking is a next generation call tracking solution and brain child of Paul Walsh; who was the original Founder of Jellyfish Online Marketing but sold up in 2009 to setup Infinity. Infinity's call tracking product was developed over almost two years by a team of specialists in PPC and tracking with over 50 years experience between them.
Contact: Jo Hodges
Telephone: 0844 4881252
###