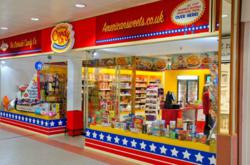 Over two days 4,600 products flew off the shelves!
(PRWEB) November 03, 2011
When owners Al and Emma Baker decided to make the leap and open a town centre store in Guildford, they knew they wanted it to be something special. Gifford Grant, a shop and office refurbishment company based near London in the UK were thrilled to undertake the fit out of their new store.
Having consulted Gifford Grant initially on the feasibility of the project, Gifford Grant was chosen to design, specify and project manage the works from initial concept to delivery. The design needed to be fun, bright, practical and eye catching in order to display The Stateside Candy Co's range of American candy, soft drinks, pretzels, baking goods and groceries.
Using the company's existing corporate colours, a concept was carefully developed and approved using Gifford Grant's Shop and Office Refurbishment expertise. To fulfil both practical and aesthetic requirements bespoke joinery was designed. This includes: 'Jellybean' cash desks with integrated cable management and storage under; a one off three tiered pick and mix system; slat wall displays; window displays; wall display and storage units; built in refrigeration; audio visual wall.
In addition to these units in bright primary colours, a 3D interactive floor has been designed and installed. The 3D floor is the first in Guildford town centre, and is proving quite an attraction, drawing customers in even if they did not plan to shop! Imagine as you step into the shop, gummy bears are magically drawn to your feet, and this is just one of the designs. A touch screen TV adds to the fun with games as well as product information.
During the fit-out, centre management and the other tenants in White Lion Walk frequently popped in to check on progress. The excitement was palpable as the project neared completion and the opening was in sight. Despite not marketing the new store, as a soft launch was preferred to ensure new staff had a chance to be trained and computer systems could be tweaked, it was a crazy weekend. Over two days 4,600 products flew off the shelves!
Gifford Grant Ltd design, project manage and deliver quality commercial fit-outs and office refurbishment in London and The South. Whether you are looking to relocate to new offices, open a distribution centre or new retail unit we can turn your ideas into reality. http://www.gifford-grant.com 01252 816188
###