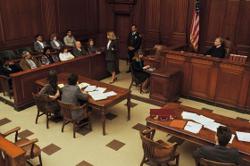 If insurance customers knew that it would be them, and not the insurance company, sitting alone in that courtroom, missing work, potentially a judgment that goes over their policy limit, we would see a lot more customers pushing their insurers to resolve
West Palm Beach, FL (PRWEB) November 03, 2011
If the promise of insurance is to protect -- not just those injured in automobile accidents but those who may have been responsible for the harm -- then insurers have a strange definition of 'protection,' says Florida insurance attorney Patrick J. Tighe of X1LAW.com. The veteran trial lawyer is calling for important changes to Florida's no-fault insurance law, requiring full disclosure of the process -- and risks and inconveniences -- an insured may face as a lawsuit defendant.
"I see it all the time in the courtroom -- a defendant who never realized that when he or she was sued it would be them, and not the insurance company, sitting day after day in court, having to defend the suit and potentially be on the hook for any judgment in excess of policy limits," says Tighe, who has been assisting Florida residents in insurance lawsuits and other claims for more than a decade. "When the lawsuit is filed, every one of these defendants gets a letter from their insurer reassuring them, telling them that the company will protect them. But these letters -- no matter who the insurer -- almost never spell out everything that will be required of the defendant if the case goes to trial. Instead, they give a false sense of security and it's time that we change that."
The problem, says the Florida insurance lawyer, is that the defendant rarely realizes -- until they are actually in the courtroom -- what time, effort, and ultimately expense being named in a lawsuit entails. As a result, says Tighe, the insured is less apt to push for a settlement, which often can prove a faster, less expensive way to resolve an automobile accident lawsuit.
"If insurance customers knew that it would be them, and not the insurance company, sitting alone in that courtroom, missing work, potentially a judgment that goes over their policy limit, we would see a lot more customers pushing their insurers to resolve cases outside the adversarial context of a courtroom," says Tighe. "That would work in all parties' favor, as it would be a lot less time consuming and costly all around."
Instead of cursory assurances of 'protection,' insurance companies should be required to send a uniform disclosure notice whenever a customer is sued as a result of an auto accident. "It's a simple step that would result in defendants better understanding what lays in front of them, and able to have a voice in whether a case goes forward or not," says Tighe. "In the end, we don't just get faster, fairer results that are less taxing on everyone, but we free up increasingly stressed court resources for the cases that truly need to be resolved before judge and jury."
A uniform disclosure requirement would be easy to implement, too, says Tighe. "It's a simple change to Florida's no-fault insurance law," the trial lawyer notes. "But the results would be significant: Defendants who are better informed plaintiffs who have a simpler path to recovery, and court time that is freed up for those who truly need it. This is a reform with no downside -- and one that should have been implemented long ago. Fortunately, it's never too late to do the right thing. So let's do it now."
About X1LAW P.A.
For over a decade, Florida personal injury and insurance lawyer Patrick J. Tighe has been protecting the rights of consumers, and those who have suffered catastrophic injury in automobile accidents, motorcycle accidents, and other life-changing events. In that time, he has represented -- and come through for -- thousands of individuals in insurance claims that were wrongly denied, delayed, or undervalued. Earlier in his career, Tighe spent nearly ten years working on 'the other side,' defending insurers in injury lawsuits. That experience gave him invaluable insight on how big insurers approach and handle insurance claim cases -- insight that is leveraged every day to bring results, and justice, for clients.
CONTACT:
Patrick J. Tighe
X1LAW, P.A.
(561) 537 5059
# # #