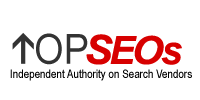 Customer Magnetism Listed as Number two Search Engine Optimization Company by topseos.com for November 2011
(PRWEB) November 03, 2011
The independent authority on search vendors, topseos.com, has released their list of the best SEO companies for November 2011. Among the various search engine optimization companies which have been listed, Customer Magnetism has achieved the position as the second best SEO company in the United States.
The topseos.com dedicated team of researchers has performed a meticulous evaluation of thousands of online marketing companies who offer search engine optimization services in order to create the list of the best SEO companies. Customer Magnetism achieved their listing as the second best SEO company as a result of their achievements and the results which they provide their customers on a continual basis. Their consistency in results and in past evaluations along with their current ratings in the evaluation process has all been considered for their listing.
topseos.com evaluated Customer Magnetism with other applicants based on the five most important aspects of search engine optimization campaigns which lead to a successful campaign for each client. The evaluation is also based on several other aspects including customer satisfaction, ethical standards, and the core leadership of the SEO company. The research team found that Customer Magnetism was able to achieve results for their clients quickly and efficiently while focusing on an ethical approach to search engine optimization which doesn't place their customers at risk.
The evaluation provided by topseos.com has found Customer Magnetism to promote both strong on page and off page processes to their clients and internally to their professionals providing the SEO service. Their needs analysis and keyword analysis processes both delve into each client specifically to address their needs and expectations and to prepare an approach to SEO that serves them specifically.
topseos.com is confident that the SEO services offered by Customer Magnetism will be able to achieve results for those looking for a great partner for their online marketing. Those who are looking for services from an established online marketing agency with excellence in search engine optimization should consider Customer Magnetism for their dedicated SEO agency.
About topseos.com
topseos.com is a well-known independent authority on search vendors. Established in 2002, the goal of topseos.com is to recognize and rank those individuals or companies providing the best online marketing services all over the world. A specialized team of researchers examine thousands of applicants each month who are seeking to be ranked as a top internet marketing service provider by the independent authority. This website is being visited daily by thousands of visitors all over the world looking for the best services available. The website also provides various types of facilities other than the independent rankings which provide useful information to customers and providers of online marketing services.
To view the complete list of the Best Search Engine Optimization Companies visit:
http://www.topseos.com/rankings-of-best-seo-companies
To learn more about Customer Magnetism visit:
http://customer-magnetism.topseos.com/
###