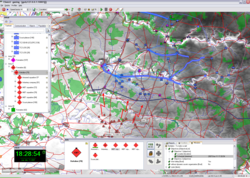 "MASA continues to be at the forefront of simulation development," said Juan-Pablo Torres, President & CEO, MASA.
(PRWEB) November 03, 2011
MASA Group ("MASA"), a leading developer of Artificial Intelligence (AI)-based Modeling & Simulation (M&S) software for the Defense, Homeland Security and Emergency Management markets, will showcase the latest advances in its portfolio of commercial off-the-shelf (COTS) software at this year's I/ITSEC in Orlando, Florida. With demonstrations of new features across both the MASA SWORD and MASA LIFE product lines, visitors to the MASA booth (#1815) will be able to see how automated aggregated constructive simulation, coupled with leading-edge AI middleware, can be used to greatly enhance the functionality of existing training systems and legacy computer-generated forces/semi-automated forces (CGF/SAF) software.
Designed to help develop and deploy complex and highly realistic training scenarios and analysis for commanding officers and crisis managers, SWORD's highly adaptable and open design makes it easy to integrate into established simulations, enabling these systems to take advantage of the latest technologies such as true high-level automated aggregated simulation. Focus at this year's I/ITSEC will be on two major areas of development for MASA SWORD: new interoperability capabilities with Command & Control (C2) and other communications systems; and a new service oriented architecture (SOA), making cutting-edge cloud-based simulations a reality today.
"MASA continues to be at the forefront of simulation development," said Juan-Pablo Torres, President & CEO, MASA. "Building on our acknowledged technology leadership in Artificial Intelligence and our strong customer-centered approach, these latest developments to our product line are in direct response to what our users tell us they need: openness and ease of integration with their existing C2 and simulation systems. We are very excited to be showing our technology with some of the most innovative organizations in the world, including NATO and other major industry stakeholders such as Saab, Systematic, Pitch Technologies, and 4C Strategies."
I/ITSEC visitors will be able to see how MASA's technology is currently being incorporated into its customers' simulation and C2 systems. On the NATO booth (#723), show attendees will see how MASA SWORD has already been seamlessly integrated within two C2 systems: the French Army's command information system (SICF) and Systematic's SitaWare battle management software.
The new integration features within MASA SWORD help ensure a tight connection between the C2 and simulation systems through an implementation of Battle Management Language (BML) and Military Scenario Definition Language (MSDL) exchanges. Because SWORD is designed for easy integration out of the box, users can leverage its ability to interoperate with both simulation and information systems, with very little client-side customization. This is especially important when clients are looking to create highly integrated training scenarios that can leverage C2 systems, as well as to operationally develop decision-support and doctrine testing activities.
On the Saab booth (# 2139), visitors will be able to see the integration of MASA SWORD with Saab's Scemanta, 9Land BMS, and Systematic's SitaWare HQ, using Saab's Widely Integrated Systems Environment (WISE). This demonstration leverages both C2 and doctrinal based simulation systems in a training environment to increase readiness.
OTHER DEMOS
MASA will also demonstrate how users can take advantage of the leading-edge MASA LIFE artificial intelligence middleware to customize doctrines and behavioral libraries to create new or modified doctrines and behaviors. LIFE can be used within SWORD or together with simulation solutions from other vendors. By focusing on a high level of interoperability, ease-of-use and customization, LIFE offers simulation developers an unmatched range of control to create their own unique version of SWORD to fit their specific training needs. LIFE can also drastically reduce the development time and cost of generating realistic behaviors in other simulation systems.
Visitors will be able to see an extensive demo of cloud-based simulation that leverages technologies from MASA, 4C Strategies, BAE Systems C-ITS, Google (Google Earth), Pitch Technologies, and Systematic. Designed to highlight the capabilities of "High-Level Architecture (HLA) in the Cloud" for solving the challenges of massive, distributed 'large command post' exercises, this demonstration highlights the uniquely open and adaptable architecture of MASA SWORD in its role as the constructive simulation tool at the heart of the simulation architecture.
This integrated approach was originally put to use as a part of Sweden's VIKING 11 Command Post/Computer Assisted Exercise in April 2011 in the spirit of "Partnership for Peace". With more than 2000 participants from 31 nations and 35 Non Governmental Organizations, Viking is the largest recurring civil-military relations exercise in the world. The overall objective of Viking 11 was to train and educate participants - civilian, military and police – in planning and conducting a UN mandated Chapter VII Peace Operation/Crisis Response Operation. The scale and complexity of such a training exercise demanded a powerful, distributed system consisting of theatre- and tactical-level simulation systems, Main Event/Main Incident List (MEL-MIL) tools, a C2 system including a viewer and an interoperability framework. This demonstration will certainly be a must-see for I/ITSEC visitors interested in the future of distributed, cloud-based simulation that leverages the power of open, interoperable, adaptable and powerful simulation and communication tools.
ABOUT MASA
MASA Group ("MASA") is a global company focused on the development of Artificial Intelligence-based Modeling & Simulation (M&S) software for the Defense, Homeland Security and Emergency Management markets. A trusted developer of cutting-edge AI technology for over fifteen years, MASA has founded its success on products that combine scalability, adaptability and low cost of ownership, with a strong standards-driven approach to technology.
The MASA product range, including MASA SWORD and MASA LIFE, is uniquely designed to remove the low-level complexity of scenario generation and to simplify the implementation of Artificial Intelligence capabilities for automating and driving simulated behaviors. This enables developers and end users to focus their efforts on the creation of highly realistic command staff training, crisis management preparedness, behavior modeling, exercise preparation, after-action review, doctrine and equipment analysis.
MASA products are in use by leading Defense, Homeland Security and Emergency Management organizations worldwide, including the French Army and other major armies around the world, Amper Programas, CAE, Krauss-Maffei Wegmann, Saab, SGO, and Thales.
For more information visit http://www.masagroup.net
###