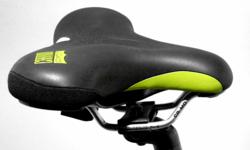 The new standard in bicycling means enthusiasts can now ride a longer distance, for a longer period of time, with more frequency.
Marsing, Idaho (PRWEB) November 03, 2011
Jeri Rutherford's tenacity and determination has paid off. After seven years and nearly 50 prototypes, she is selling her Carbon Comfort Saddle through her Idaho company, RideOut Technologies. This revolutionary bike seat sets a new standard for bike seat comfort and performance. The seat is light weight and absorbs road shock while flexing with the rider because it matches the body's anatomy.
An active long distance cyclist since her teens, Rutherford found she was feeling more and more discomfort using conventional bike seats. At 45, she knew she was not the only one feeling discomfort and pain. According to research conducted by Dr. Rich Weil, from the University of Wisconsin, the pain of riding bikes on conventional bike seats causes the reduction of blood flow by up to 70 percent. This is because tissues are being compressed and restricting blood flow to sensitive nerves.
Rutherford's own love of cycling and knowledge that a painful bicycling experience could result in people quitting their favorite form of exercise drove her to take action. She was also motivated by her concern for the environment by trying to keep people on their bikes and out of their cars. Her environmental interests also have led Rutherford to become involved in other experimental projects, like an energy-reducing grass carpet and a 12- foot wall of plants in her own home.
"I live and work in Idaho for five reasons: The skiing, the biking down miles and miles of nearly empty roads with incredible scenery, the rivers to be rafted, the mountains to be hiked and the clean air. Having a comfortable bike seat in a beautiful environment makes the biking experience the best it can be," she says.
The Carbon Comfort bike seat is made up of four parts; infused carbon fiber "crossbow suspension technology" to absorb and dampen road shock and vibration. This unisex design and thermal molded base plate and multi-density foam allows correct weight distribution, relieving pressure on the nerves and increasing blood flow. The Kevlar-reinforced saddle cover and high-visibility reflective safety panel are an additional benefit to an already proven high performance bike seat.
Now this recreation-technology business is getting national and international attention. The seat retails at $84.95 and can be purchased at Mc U Sports in Boise as well as distributors in six different states. Right now 80 percent of her sales are from the RideOut Technologies website. Much of the research and development was done at Tech-Help engineering labs at Boise State University. Final prototype testing was done at the University of Wisconsin.
"The new standard in bicycling means enthusiasts can now ride a longer distance, for a longer period of time, with more frequency. Non-riders who enjoyed their bicycles when they were younger can start riding again without the fear of pain," she says.
Rutherford could sell her bicycle seats from anywhere but she chose Idaho for its lifestyle. "Different seasons bring different opportunities to get outside and enjoy this wonderful land," she says.
Positively impacting the physical well-being of the average person, while minimizing the number of cars on the road, one bike at a time, is a dream come true," Rutherford says.
For more information and to visit the website, go to http://rideouttech.com.
# # #