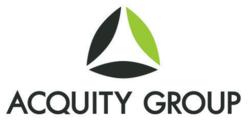 Chicago (PRWEB) November 02, 2011
Acquity Group LLC, a leading global brand eCommerce and digital marketing company, today announced its new services practice that focuses on extending and penetrating brands into the China consumer market. While Acquity Group has already built its knowledge base around the global eCommerce marketplace, the new practice reasserts Acquity Group's commitment and focused efforts on expanding its services practice in China.
This announcement comes amid widespread interest from brands exploring new growth opportunities in China. According to recent analyst reports, China's eCommerce market alone is one of the largest and fastest growing in the world, given its total size and propensity for adopting new technologies that assist in online shopping -- like social media and mobile commerce. In fact, a recent Acquity Group market research study revealed that 45% of China's online shoppers buy something online once a week or more, with 44% buying something online between one and three times every month.
"There is immense opportunity for international brands to prosper here in the United States and there is equal opportunity in the China market for leading global brands," said Chris Dalton, CEO of Acquity Group LLC. "With Chinese consumers showing a preference for foreign brands, the country is quickly emerging as the biggest consumer market in the world. Global brands must stay relevant. Our brand management services practice will minimize the risk of brands extending their presence without the support of a partner that has the expertise and relationships necessary to make that globalization a success."
Benefits of Working with Acquity Group in China
Acquity Group already works with global brands in a variety of capacities -- ranging from strategy to execution -- by designing and implementing a digital marketing strategy, providing them with an eCommerce platform, addressing new digital demand for their brand and creating personal customer experiences. Acquity Group's current portfolio of global brands conducts multi-billion eCommerce sales per annum in the North American market alone.
These leading capabilities are coupled with Acquity Group's competencies in China, which make it easy for leading brands to expand into the country. With offices in Shanghai and Beijing, Acquity Group has an existing infrastructure in China, as well as dozens of partners -- ranging from third-party service providers and logistics, to search engines and group purchase agencies.
About Acquity Group:
Acquity Group is a leading global brand eCommerce and digital marketing company, creating award-winning digital experiences for global brands. Our multi-disciplinary approach brings together strategy, design, and technology to create brand-unique experiences that build unbreakable customer relationships. Acquity Group has offices across the U.S. and China. To define a unique perspective for your business, contact Acquity Group at http://www.acquitygroup.com.
# # #