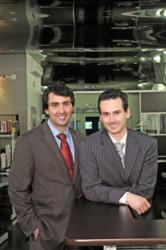 Toronto, ON (PRWEB) November 03, 2011
Entrepreneurs and founders of Dine.TO, Stratos Papachristopoulos and Pantelly Damoulianos, launch Canada's ultimate Lifestyle and Entertainment Guide TasteMyCity.com. The online directory provides information about businesses in the areas of dining, entertainment, retail, travel and lifestyle across the country. Online visitors and mobile users can locate the best restaurants, bars, clubs, hotels, shopping boutiques, beauty shops and much more!
Users can also download Drome™, by TasteMyCity, available for RIM Blackberry™ and Android™, enabling you to search for restaurants, attractions, coffee, movie listings, spas, campgrounds, shopping malls, etc. Drome™ is the only nationwide mobile app with detailed content, such as menus, pictures, events, coupons and special offers.
Stratos Papachristopoulos and Pantelly Damoulianos are best known as the creators of Dine.TO, Toronto's premier hospitality guide. The long-time friends and business partners were looking to open a restaurant, but opted for the exciting world of e-business. They used partnerships and custom-tailored marketing methods to take their passion for the hospitality industry and knowledge of emerging technological trends to start their first web venture together.
To mark the success of Stratos and Pantelly's first venture together which began in 2002, Dine.TO first appeared on Profit Magazine's Hot 50 list of Canada's hottest start-ups in 2009, while it currently ranks as #58 on the 2011 Profit 200 list of Canada's Fastest-Growing Companies.
As there was a rising need to reach a broader geographical region, Dine.TO spread its reach to the cities of Mississauga and Barrie, and their surrounding areas. Both BarrieRestaurants.com and MississaugaDines.com ranked #1 on Google under Barrie and Mississauga respectively.
Further to the rising demand for a one-stop food and hospitality resource in the other provinces of Canada, Stratos Papachristopoulos and Pantelly Damoulianos created Question De Goût (QDG.ca) which provides a portrait of Montreal culture, allowing visitors to discover many entertainment and leisure activities bundled into one go-to source. Stratos and Pantelly also expanded their service into the west of Canada, with the creation of EdmontonDining.com.
Other projects that Stratos and Pantelly have been involved in include the online group buying website dealicious.ca and a partnership with 411.ca. In collaboration with 411.ca, visitors can easily access images, coupons, restaurant reviews and much more from the 411.ca site.
In 2002, Stratos Papachristopoulos and Pantelly Damoulianos recognized a need for an online directory for all-things food and hospitality, which materialized into their first creation, Dine.TO.
About Dine.TO:
With an extensive database of restaurants, hotels, lounges and all-things-gastronomic, Dine.TO provides a quick, elegant online experience for all who wish to enjoy the culinary and cultural diversity that makes Toronto great. Free to businesses for a basic listing on the website, Dine.TO can help find the perfect restaurant or venue for any occasion.
With access to over 10,000 restaurants, hotels, bars, clubs and banquet halls, Dine.TO offers users quick access to the best recommendations on restaurants in the GTA. Users can also view menus, pictures, and events listings from their handheld device by simply launching the mobile's browser and visit dine.TO. With 400,000 visitors a month, users appreciate the integrated listings featuring photo galleries, virtual tours, full menus, up-to-date restaurant reviews and chef profiles.
Available for interviews: Stratos Papachristopoulos and Pantelly Damoulianos
# # #