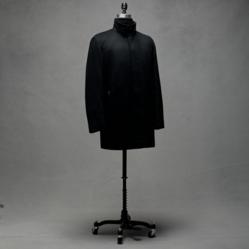 The water-resistant Dodge is the epitome of Sanyo's tagline, "Rainwear/Anywhere."
New York, NY (PRWEB) November 19, 2011
Sanyo Shokai New York, Inc. today announced three additions to their Wool Overcoat collection, a line of coats whose sumptuous fabrications include pure wool as well as fine wool blends of angora and cashmere. The three new coats represent the company's introduction of its latest fabrication, Rain-Wool, an innovative super-fine Merino wool that is finished with a water-repellency treatment which adds to the already water-repellent quality of the fabric.
The Get-Away jacket by Sanyo Shokai New York has long been a staple for the businessman. Its newest incarnation in Rain-Wool, the Durango, effortlessly adapts to any sudden change in the weather. For increased protection, the Durango is also secured with a water-resistant micro-polyester lining. The coat delivers superior performance, and it does so with style. Perfect for business as well as casual occasions, the Durango is the essential wool winter coat of the season.
Made of 100% Rain-Wool, the water-resistant Dodge is the epitome of Sanyo's tagline, "Rainwear/Anywhere." The woolen version of the Aspen, the Dodge is the ultimate all-weather wool coat, equally suitable for a formal event or a casual weekend outing. The interior lining is comprised of a Micro Polyester typically used as an outer shell material, adding another layer of water resistance. And the double-collar easily converts to a single collar for a more classic look.
A hybrid between Sanyo's rainwear and wool overcoats, the Stratton is also made of 100% Rain-Wool. Delicately yet durably spun, the microfibers of the coat lend a fineness to both its feel and its sheen. At its foundation, the Stratton is a formal wool sports coat with standard slim blazer lapels and is finished with three front buttons. Also functional as a casual double-collar coat, the Stratton is the versatile hybrid wool coat to own, protecting you from all kinds of inclement weather in style.
----------
"We're very pleased with the additions to our Wool Overcoat collection," said Chris Champlin, Sanyo's Vice President of Sales. "The new Rain-Wool styles strengthen an already well-performing category for us. The lightweight fabrications and various designs we offer mean that, no matter what your needs, we have you covered."
Availability: The Durango, the Dodge, and the Stratton are now available on the Sanyo web site at http://www.sanyofashionhouse.com, at Nordstrom, at Saks Fifth Avenue, or by calling 1-800-99-SANYO (between the hours of 9:00am-5:00pm EST).
Sanyo Shokai New York, whose parent company Sanyo Shokai Ltd. is the largest apparel manufacturer in Japan, designs and manufactures men's luxury and casual outerwear. Its retail partners include Nordstrom, Saks Fifth Avenue, Barney's New York, and Lord & Taylor, among other prestigious retailers.
Incorporated in 1981, Sanyo Shokai New York is currently celebrating its 30th anniversary.
###