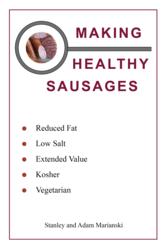 Making Healthy Sausages reinvents a new method of thinking and preparing the product.
Seminole, FL (PRWEB) November 09, 2011
Making Healthy Sausages is a book that has been long overdue. Sausages have always been one of our favorite foods, but they are not the healthiest products. They contain a significant amount of fat and salt, the latter often added not for flavor, but for preservation purposes. Some sausage types are better suited for making low salt or low fat sausages, others contain more salt for safety reasons and should not be interfered with. Making Healthy Sausages reinvents traditional sausage making and introduces a completely new method of thinking. The sausage is not spiced hamburger meat anymore, but rather a "package" which contains meat plus other ingredients. All those ingredients acting together create a nutritional and healthy product. The latest 2011 United States Department of Agriculture "Dietary Guidelines for Americans" are discussed as they directly influence the manufacture of reduced fat sausages.
The purpose of Making Healthy Sausages is to educate the reader how to use new additives that the food industry has embraced for quite some time. Commercial producers have been using hydrocolloids (gums) for making reduced fat ice cream, dressings, sauces, and snacks for a long time. For example, carrageenan has been used by meat producers to improve texture and sliceability, it goes into all commercial brines yet there was no information why or how to use it in home made products. The book discusses all additives that are available on the market and explains which are best suited for a hobbyist.
Ingredients such as Konjac gum, xanthan gum, carrageenan, microcrystalline cellulose, soy protein isolate (SPI), textured vegetable protein (TVP), oil emulsion, vital wheat gluten, fat replacers and others are described in detail. The reader will learn how to apply less salt and fat and produce a sausage that will be flavorsome, healthy and safe to eat. How to make sausage without fat, or without meat at all, yet to create a texture that will not fall apart when sliced thin.
After reading Making Healthy Sausages you should be able to create your own recipes or modify any existing recipe to make a healthier sausage without compromising the flavor. The collection of 80 recipes provides a valuable reference on the structure of reduced fat products. Each of the recipes contains less than 200 calories per 100 g (3.5 oz) serving. The book teaches the basics of sausage making and includes all advice and tips that will make the reader a proficient and knowledgeable sausage maker. You will be able to calculate the amount of calories the sausage contains and decide what ingredients will go inside. After studying the book you will be the modern sausage maker.
ISBN: 9780983697305, 330 pages, Format: 6 x 9, Paperback, SRP: $19.95, Genre: Cooking, Food Science.
Published by Bookmagic LLC
About the Author
Stanley and Adam Marianski are authors of four popular books: Meat Smoking and Smokehouse Design, Polish Sausages, The Art of Making Fermented Sausages, and Home Production of Quality Meats and Sausages. They run the popular web site http://www.wedlinydomowe.com dedicated to smoking meats and making sausages.
Contact Information
John Novak
Bookmagic LLC
(727) 479-4577
info(at)bookmagic(dot)com
###