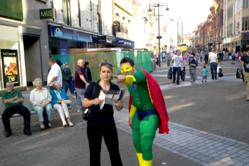 Our marketing strategy is not just a policy; we are always eager to differentiate ourselves.
London, UK (PRWEB) November 03, 2011
In line with their usual unconventional marketing strategy, intellectual property recruitment firm Fellows and Associates have recently launched their second original video, portraying a day in the life of Captain Feasible, real-life superhero. Produced with a cast and crew of volunteers, Captain Feasible was filmed in F&A's signature guerrilla style.
"We felt that after the success of Goose Attack [their previous video project which is now nearing 80,000 views on YouTube] the time was right to produce another video this summer" says Pete Fellows, MD of Fellows and Associates. "Our marketing strategy is not just a policy, so we are always eager to produce new content and differentiate ourselves. Even though Goose Attack did well, we can't rest on our laurels for too long – we need to keep things moving!"
Pete is convinced of the potential of (viral) video marketing for the comparatively conservative intellectual property recruitment market. "We're starting to see some people out there shaking it up a bit. A lot of patent attorneys and trade mark attorneys are getting tired of past associations of the intellectual property profession with formality and stuffiness. There have been major instances of rebranding as well as restructuring in large patent and trademark firms to adapt to the current corporate culture for the benefit of their clients and employees. As a recruitment firm catering to this swiftly modernising market, we need to be ready to provide firms with cutting-edge services, and that includes marketing methods."
A recent white paper produced by Experian Hitwise for Marketing Week focuses exclusively on the rise of online video as part of a wider social networking strategy. In fact, according to this report, online video has been very successfully employed by big-name brands to drive traffic to their social networking pages and corporate websites, as well as target previously untapped audiences. As internet usage intensifies, video websites are increasingly popular: "In the last three years the biggest growth sectors online have been in social media, entertainment and news." [Online Video: Bringing Social Media to Life, Experian Hitwise through knowledgebank.marketingweek.co.uk, October 2011.]
As a self-confessed movie buff, Pete is the first to admit that he enjoys the video production process. "It's a bit of fun for us all at the office, coming up with concepts and going online to order costumes and things like that, but at the same time it is a useful exercise because it has the power to bring our brand onto the screens of thousands of viewers, and get our message out there. I think that's what it should be like, marketing. Marketing should be fun. If you don't think it's fun when you're creating it, nobody else will!"
About Fellows and Associates
Fellows and Associates recruit Patent Attorneys, Trade Mark Attorneys, IP Lawyers and other Intellectual Property professionals worldwide. The firm offers a diverse range of recruitment services including search, advertised selection and managed campaigns. Fellows and Associates' management consultancy division offers targeted strategic advice to firms within the Intellectual Property sector worldwide. See fellowsandassociates.com for more or phone +44 207 903 5019.
Fellows and Associates' Managing Director Pete Fellows has over a decade's experience in the recruitment industry and has recruited positions in locations such as Russia, Australia, the UK, Hong Kong, Singapore and the United States. More recently he has been responsible for moving Partners of major firms of Patent Attorneys to positions worldwide.
###