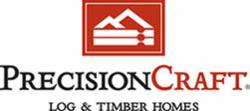 "I am very proud of our in-house architectural firm, Mountain Architects, for continuing to expand the creative boundaries of log home designs while at the same time creating homes that meet our clients' unique style preferences and budgets."
(PRWEB) November 04, 2011
Over the years, PrecisionCraft Log and Timber Homes has continued to focus on the design quality and creativity of each and every one of its popular mountain-style homes. As a result, they have received numerous awards and accolades including two new awards. Two of its homes were recognized in the 2011 BSC Excellence in Home Design program. These honors were awarded by the Building Systems Council (BSC) of the National Association of Home Builders (NAHB)—a trade association that represents industries including the Log Homes Council. The awards are judged by an independent panel of industry experts each year.
The first of these two awards presented to PrecisionCraft was an Honorable Mention for excellence in a log home design of 3,001-4,001 sq. ft. This home used custom milled logs and is based on their popular Caribou floor plan, originally conceived as a handcrafted log home. The second design award was an Honorable Mention for Excellence in Design for a custom handcrafted log home built over 4,001 sq. ft. This spectacular home is located in Jackson Hole, Wyoming.
"I am very proud of our in-house architectural firm, Mountain Architects, for continuing to expand the creative boundaries of log home designs while at the same time creating homes that meet our clients' unique style preferences and budgets," said PrecisionCraft COO, Jim B. Young.
This year, the awards were renamed to honor Jerry Rouleau, a marketing authority and longtime advocate of the systems-built industry, who lost his battle to cancer this year.
"Receiving one of these prestigious awards not only elevates the winning company's stature, but it also enables them to receive national attention for their achievements," said 2011 BSC Chairman Harry Junk.
PFB America, a wholly owned subsidiary of PFB Corporation, is the parent company of Riverbend Timber Framing, PrecisionCraft Log and Timber Homes, and Insulspan SIPs.
PrecisionCraft is a designer and producer of custom mountain style homes which contain some combination of logs and timbers. The majority of PrecisionCraft's log homes and timber frame homes showcase large diameter logs and heavy timbers which range in size from 1,500 to over 6,000 sq.ft.
# # #