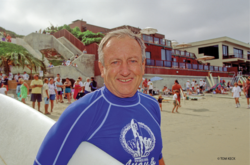 San Diego, CA (PRWEB) November 03, 2011
Gordon and Smith announced today a plan to pursue its new chapter of growth under a new President, Justin Beck.  Larry Gordon launched Gordon and Smith from a San Diego garage in 1959 as an early surfboard manufacturer and kept the brand core under his 52 year reign as President.  Gordon and Smith has grown to be an iconic leader in the action sports industry.   
Gordon and Smith's relentless pursuit to innovate has created a strong company culture and influenced the direction of both surfing and skateboarding on broad levels.  In 1959, by applying Larry's background in chemical engineering, Gordon and Smith was one of the first to launch foam core surfboards, which were much lighter than their balsa wood predecessors.  
In 1964, Gordon and Smith leveraged its surfboard making knowledge to release FibreFlex, which was the first fiberglass layered skateboard.  FibreFlex allowed a board to have more flex and still retain the strength and pop that enhance performance.  FibreFlex set the industry standard and today almost every skateboard manufacturer uses some form of composite construction.  
Gordon and Smith helped drive the short surfboard revolution in the early 70s.  In the late 70s, under its nickname 'G&S', Gordon and Smith produced the Warptail skateboard.  G&S team rider Stacy Peralta popularized the Warptail, and today it is still the world's number one selling skateboard of all time.  
The 80s and 90s included legendary surf and skate teams and more top selling boards.  The new millennium brought about the return of longboard surfing and the rise of longboard skateboarding.
In 2009, Gordon and Smith celebrated its 50th anniversary in San Diego, which attracted thousands of fans, celebrity riders and industry leaders from all over the world.  Larry Gordon said, "Gordon and Smith has been an amazing journey and our results exceeded our expectations.  It is wonderful to know we have served millions of people as both friends and customers in the sports we love.  I look forward to seeing the continued innovation and success of the brand for many years to come."
Justin Beck, Gordon and Smith's new President, said, "Of the many things Larry did right, the most important was keeping the brand core to the sports and the people that participated in them.  Continuing to provide boards handcrafted by artisans in California will insure that Gordon and Smith does not lose its identity in this new chapter of growth.  If we do one thing right, we will perpetuate Larry's legacy of innovation for core board riders all over the world. Our new product releases throughout this quarter will do just that."
Gordon and Smith is commemorating the transition and Larry Gordon's iconic contribution to the industry with a limited edition release of a Larry Gordon Signature FibreFlex longboard.  Reflecting the launch of FibreFlex in 1964, there will only be 1,964 signed, serial numbered and microchipped boards produced.  The limited edition boards will be sold through http://www.gordonandsmith.com and select retailers around the world.  A limited number of this collector's piece will be available for the 2011 holiday season.
About Gordon and Smith
What began over fifty years ago in California as a small group of people determined to find the best way to make and ride surfboards, has extended to a worldwide phenomenon that has crossed every continent. Board riding has expanded from the waves to the streets and ultimately to snow covered mountain peaks. Board riding is not just an action sport, it is a lifestyle. Gordon and Smith has been there since the beginning and has innovated high quality products for core board riders around the world. More about Gordon and Smith's tradition and products can be found at http://www.gordonandsmith.com.
###