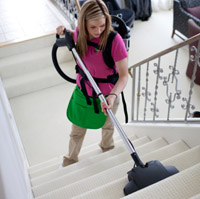 The instant gift certificates are really convenient.
St. Louis, MO (PRWEB) November 03, 2011
The holiday shopping season is almost upon us. While some will get their holiday shopping out of the way early, a third of all holiday shoppers will do their shopping in the 10 days leading up to Christmas. Better Life Maids a green house cleaning franchise, has developed an instant online gift certificate program that is great for those early shoppers, or for those of us that wait till those last few days. Buyers have the option of customizing and creating the perfect gift for their recipient.
Gift Certificates range from $25 to $1000, a $200 gift will cover the average 2000 sq ft home for an initial visit. Subsequent visits are less, so a $500 package may cover up to 4 total cleanings. The customized gift certificate can be delivered instantly by email, or can be printed by the buyer to present at a later time.
"The instant gift certificates are really convenient," said Angela Ricketts, Vice President of Client Experience of Better Life Maids. "Another benefit of offering instant gift certificates is the green factor. They are printed as they are needed, their is no postage or wasted energy in transportation. We really like the program."
It appears that buyers have liked the program as well. According to Ricketts, they sold 3 gift certificates in the first day they offered them online and they have sold steadily since then. This without any promotion up to this point. It seems that people like the idea of having their home cleaned as a gift, and they like the convenience of being able to order online.
About Better Life Maids
Better Life Maids is a green house cleaning service founded in St. Louis, MO. Better Life Maids is seeking to grow in select markets through a franchise development program, as well at the addition of new company owned units. Better Life Maids has partnered with Better Life, a green household cleaning products company, to help create the first national green product and service brand. For more information, visit http://www.betterlifemaids.com or http://www.cleanhappens.com.
###