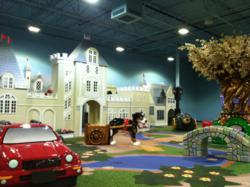 The indoor play equipment is so soft, safe and pretty that parents enjoy bringing their kids.
Englewood, CO (PRWEB) November 09, 2011
When the Collyer family moved to Asheville, NC, they encountered a community with no indoor play areas for young families. So they contracted with PLAYTIME to help create Mountain Play Lodge, a new family entertainment center that caters to both kids and parents. The most popular play elements in Mountain Play Lodge are the three replicas that PLAYTIME made of the Collyer's Swiss Mountain Dog, Gabby.
Shaun and Sara Collyer have two young boys who "need to burn a lot of energy." After some strategic thinking (and fun play equipment shopping), they opened Mountain Play Lodge in Asheville, NC.
"We've been open six months and we're hiring more people and drawing families from over an hour away."
The Collyers always dreamed of opening an indoor play area. They had lived in Hilton Head, SC for years and visited all three of the area's indoor play facilities to help their boys burn off energy. When they moved to Asheville, they encountered a community with no indoor play resources for young families.
"That's when we got serious," says Shaun, who explains that he and Sara made lists of their most and least favorite play elements. "You'll never find a ball pit in our facility," he quips.
They wanted to create an indoor play area that offered a variety of play opportunities for toddlers to pre-teens, and also an inviting, comfortable atmosphere for parents.
The result – Mountain Play Lodge – opened on April 15, 2011 and it boasts four large inflatables; several custom-built play houses; replicas of the nearby historic icon, Biltmore House; DuraSoft custom-designed carpeting, and soft foam-sculpted play equipment that was custom-created by PLAYTIME, LLC.
"One of our best shopping discoveries was PLAYTIME," says Collyer. "Their equipment is perfect. It looks so cool but it's soft. Parents are astounded when they touch it."
Collyer also says that the PLAYTIME equipment adds to the overall aesthetic that he and Sara were trying to create.
"The play equipment is so soft, safe and pretty that parents enjoy bringing their kids," he says.
Speaking of parents, Mountain Play Lodge offers them a comfortable, comforting experience. They can sit in chairs that are centrally located, offering views of 99% of the play facility. The 1% of the area that parents can't see from their chairs, they can see from the video surveillance monitor that the Collyers installed.
Parents also enjoy free wi-fi and the opportunity to buy coffee.
Three soft-sculpted foam climbers designed for the Collyer's Swiss Mountain Dog, Gabby, are Mountain Play Lodge favorites.
"We sent them pictures of Gabby and they recreated her out of soft foam," says Shaun. "There's one of her pulling a cart, laying down, and sitting in the lobby. She's become a local celebrity here."
Shaun says the play facility has been more work than he anticipated but also says, "There is no doubt that it has been and will be successful. I'm actually eager to start another one."
ABOUT PLAYTIME
PLAYTIME is the global provider of unique, interactive healthy play areas and playground equipment for indoor, outdoor and water play. Designed to engage children, our themed soft play areas drive traffic and enhance our customers' brands. Thousands of families experience PLAYTIME everyday at shopping centers, restaurants, airports, stadiums, childcare, healthcare centers, fitness centers, churches, resorts, recreation centers, water parks and museums – any place that kids play. Learn more at playtime.com.
###