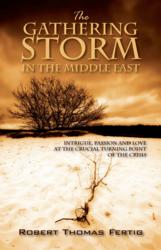 Impeachment of President Obama may be considered by Congress for making deals with our enemy which exposes our troops to greater danger.
Clearwater, FL (PRWEB) November 07, 2011
Author Robert Thomas Fertig predicted in his recent historical novel, the Gathering Storm in the Middle East, many of the actual recent events. His award winning book presents: international corrupt bankers, government leaders, and the crisis in the Middle East.
It's all a far cry from the sedate suburban life and existence Richard Rinaldi (main character) has been leading. But now he is on a quest for meaning in life, passion and true love.
There's Eva, the seductress. She leads Richard into the quicksand of immorality and illegal financial deals. There's Anne, a double agent who has the "right contacts" in Iran and delivers to them the microcomputer technology they need to make their nuclear-tipped missiles more accurate. Richard is in love with her. How can he trust his feelings for this angelic blond beauty?
Richard is the new strategic planner for CTS, a software development company. He travels with Charley, the president, to Iran. Following a dispute with the Iranian project manager, they come up with an idea, code named "Trojan Horse," later changed to "Myrtus." a computer virus ("worm") planted in the Iranian system, which is timed to spread throughout the computer network, later.
Richard discovers that President Obama was not acting in the best interest of America. Obama, together with NATO, invaded Libya to save Arabs from Kaddafi's decades of tyrannical leadership. Mission accomplished! What is the ultimate cost? Obama and NATO lost control over highly-sophisticated and very dangerous weapons, especially WMD which will find their way to Egypt and Hamas, and other terrorist groups to kill more Americans and Jews.
As the plot unfolds, Obama agrees to pull American troops out of Iraq, against the best advice from American military experts. The troops are concentrated in very vulnerable Kurwait. President Obama thereby creates a "power vacuum" for the Iranians to fill (Iraq and Iran are against Jews and Muslim Sunni's, who are the local minorities). All of our military and diplomatic efforts, the blood of thousands of troops and a trillion dollars of treasure, were likely wasted because the Commander-In-Chiefs inexperience and deplorable leadership, Richard concludes.
Fertig predicts from his research in the Middle East for this Award Winner Novel that: "Obama will be a first-term president! The reasons are clear: the sick economy, Obama-Care, and extremely high unemployment, under his watch. But the international damage the president has done, will do in less than one term, will haunt America for decades to come, Most of the Middle East: Libya, Egypt, Iraq, and soon Syria, will be without strong leaders. The Muslim Brotherhood and Iranian terrorists will play a key role in many of these destabilized governments. Russia and China have also become stronger. America is now weaker."
The story ends with: "As a result of Obama's inability to make critically decisions, a new, even greater crisis in the Middle East, will not, cannot be stopped on time. This nuclear crisis, its surprising outcome, and the War between the Christian West and Radical Islam's East, is inevitable."
The Bible says, "Those who live by the sword shall die by the sword!"
About The Author:
Robert Thomas Fertig is the author of: The Beauty and Wonder of Transcendent Truths, A Guide to Universal Truths, the Software Revolution, principal writer of Waves of Change and the co-author of Engineering Workstations. Robert was President of Enterprise Information Systems, Inc., a technology consulting firm. Currently, he and his wife, Miriam are volunteers for Guardian ad Litem (also known as C.A.S.A.), the objective "eyes and ears" of the courts for America's thousands of abused and neglected children.
Fertig's latest books are all available from Amazon.com
Contact OutSkirtsPress.com
Contact
FERTIG
Fertig
(727) 510-6664
itrustchrist(at)gmail(dot)com
###