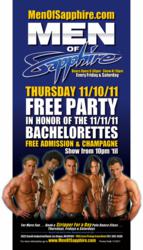 11/11/11 is slated to be one of the busiest wedding days of the year in Las Vegas
Las Vegas, NV (PRWEB) November 03, 2011
11/11/11 is slated to be one of the busiest wedding days of the year in Las Vegas, the wedding capital of the U.S., and the Men of Sapphire male review, your bachelorette party headquarters in sin city, is throwing a FREE party for all ladies on Thursday, November 10th at 10pm. Complete with complimentary champagne and special Hpnotiq Harmonie cocktails.
It's down to your final few days as a single, independent women and they want to celebrate them guilt-free with a crew full of their most loyal friends. It's a Bachelorette Party! This is the last chance to have what all women want…an evening with a roomful of incredibly hot guys with bodies like Gerard Butler in "300" who are there exclusively to please.
Men of Sapphire has just that evening planned in our ladies-only showroom. The evening starts with complimentary, luxury transportation for the entire party. Ladies will be escorted in by a host and the party girls will be photographed with a few of the men to document the occasion before being led to plush VIP seating at your front-row table. Leave inhibitions at the door as you enjoy a favorite cocktail or a bottle of champagne.
The show begins with the requisite countdown and theatrical entrance, the men jump around the stage with moves Usher would approve of. What follows is a series of themed fantasies: the dress marine, the fireman, the cowboy, the construction worker and the bad boys to name a few. The feature entertainer is seven-time Playgirl centerfold and Mr. Natural Universe, Rico Elbaz. Champion hip-hop dancer Tauris takes the stage as well with Chris Brown-like dance moves. The greatest crowd reactions however, come from the sudden appearance of washboard abs when the clothes come off.
But Men of Sapphire isn't your typical male review where the dancers (for the most part) stay on stage and perform to choreographed routines. The gentlemen walk around, flirting with the audience giving lucky women a chance for up-close-and-personal lap dances in the back of the room.
Ladies, if you're looking for a party with so much more than the usual male strippers, then this is the place to be. The evening will include a variety of international accents and hard bodies providing choreographed stage performances as well as personal one on one entertainment. Enjoy the male eye candy as each performer takes his turn on stage. Lucky ladies get called up on stage for an impromptu up-close-and-personal performance.
Expect a lot of crowd interaction because ladies are encouraged to not only see the show but to be the show as they are called on stage to be part of the entertainment. Dreams of an up close encounter with beautiful strong men come true at Men of Sapphire. Ladies submit a piece of paper to the DJ volunteering the bachelorette or birthday girl in their party for a stage dance or a private dance for a little extra cash and memorable entertainment. Ladies are also encouraged to crowd around the stage where a guy will give you a little extra attention — for a dollar.
When Men of Sapphire concludes, do not expect to be notified. The show rolls right into nonstop private lap dances by the performers, stage dances and plenty of men walking around. And ladies, these boys can go all night long...
If its celebrating a birthday, a bachelorette party or just want to have some naughty fun, grab the girls and head to Men of Sapphire because 11/10/11 is going to be special and it's free!
Experience the World's Best Bachelorette Party at the World's Largest Gentlemen's Club at Sapphire, located at 3025 S. Industrial Road in Las Vegas, with 70,000 square feet of topless entertainment. Get to the club early or reserve your table today. Open 24/7, 365 days a year to patrons 21 and over, Sapphire serves the finest variety of cocktails, wines, champagne and cigars.
With the exception of this special event, Men of Sapphire shows are Friday and Saturday evenings only, door open at 9:30pm. Show time is 10pm to 2am. Our VIP Packages make it easy and affordable and our VIP Hosts handle all the details. All packages include complimentary transportation to Sapphire from the Strip hotels. Packages can be purchased online at http://www.MenOfSapphire.com. For more information call 702-869-0003. And for special offers and updates follow Sapphire LV on twitter @sapphirelv.
###