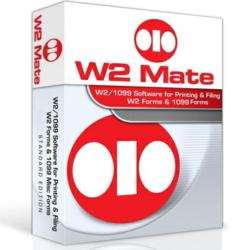 We are proud to offer this powerful 1099-R Software to the business and tax professionals community because it will greatly reduce time and effort for 1099-R compliance.
New York, NY (PRWEB) November 04, 2011
Real Business Solutions (http://www.W2Mate.com), a leading provider of 1099 preparation solutions, announced today that its 1099-R software is now available for immediate purchase and download from its website at W2Mate.com. The state of the art W2 1099 filing software offers a suite of highly productive features to help corporations, small businesses, accounting firms, and 1099 service providers manage the whole cycle of preparing 1099-R forms including typing, importing, modifying, validating, printing and 1099-R E-filing with IRS FIRE System.
A free 1099-R Software Demo can be downloaded by visiting http://www.realtaxtools.com/.
In the past, only larger companies could afford an advanced 1099-R processing software system to manage 1099-R printing and electronic filing process. With W2 Mate, any business can gain full-scale 1099 reporting management tools featuring state of the art integration with leading accounting and tax applications including Intuit QuickBooks, Microsoft Dynamics, Sage Peachtree and Sage DacEasy.
W2 Mate W2 and 1099 tax software offers support for paper-print and paperless (electronic) wage and information return preparation for 1099-R, 1099-MISC, 1099-INT, 1099-DIV, W-2, 1099-S, 1098-T, 1098, 1099-A, 1099-B, 1099-C, 1099-PATR, 1099-OID and associated transmittals (1096 and W-3 forms).
About Real Business Solutions:
Established in 2003, Real Business Solutions is an industry leader in providing small business payroll software, 1099 preparation software and W2 tax software solutions for 2012, 2011, 2010 and before. Real Business Solutions products are used by thousands of businesses, tax professionals, non-profit organization, and government agencies all across America. The Company's mission has been to provide powerful and great value software solutions coupled with high quality customer service. Through this website small businesses and accounting professionals can find and download software to manage payroll, report payroll taxes, print W2 Forms, Print 1099 Forms, E-File 1099, electronically file W2 forms, print checks and prepare payroll forms like 941, 940, 944, W-2, W-3, California DE-6 , California DE-7 , Texas C-3 , Texas C-4, New York NYS-45, Illinois 941 and Illinois UI-3/40.
# # #