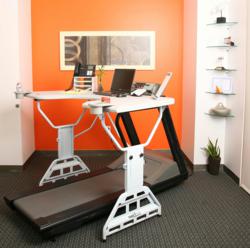 Employers imposing health insurance penalties on obese employees without offering an opportunity for movement during the day, might want to reconsider their policies."
Scottsdale, AZ (PRWEB) November 02, 2011
An international body of researchers published in the November 1st edition of PLoS Medicine found that individuals with increased risks for obesity due the "fat mass and obesity associated" (FTO) gene could lower the impact of the gene as much as 27% by staying physically active. The sedentary nature of work and school environments however are a major obstacle. TrekDesk treadmill desks offer a solution that allows for continual movement throughout the day decreasing the effect of the FTO genes on individuals striving to maintain a healthy weight.
The study was conducted by the Genetic Aetiology of Obesity Programme at Addenbrooke's Hospital in Cambridge, England and consisted of a meta-analysis of 45 previous studies involving a total study pool of 218,000 participants.
The good news for those with the FTO gene is that the amount of physical activity necessary to reduce the impact of the gene is not overwhelming and does not involve Spartan measures. "I think it is important to highlight that you don't have to run a marathon or necessarily join the gym, but walking the dog, cycling to work, taking the stairs . . . about one hour (of activity) a day, five days a week, will have the effect we saw in our study," related study author Ruth Loos.
Dr. Robert Berkowitz, senior medical director of the Weight and Eating Disorders Program at the University of Pennsylvania cautioned that although genes play a role in obesity the rise in obesity levels over the past three decades is more the result of changed habits and environments. "It's good to see that physical activity can really help people despite having the (obesity) gene," Berkowitz stated in an interview specific to the study. "It really is a genes-environment interaction. Most of us are faced with sedentary jobs, so we're not as active as we used to be even 30 or 40 years ago. I think it all makes it difficult for a person coping with a weight problem."
"Scientists are confirming that daily movement can have dramatic health implications for our nation as a whole and that we must focus our efforts on creating an environment at work and in schools that encourages movement now," stated Steve Bordley, CEO of TrekDesk Treadmill Desks. "This study also shows that employers imposing health insurance penalties on obese employees without offering an opportunity for movement during the day, might want to reconsider their policies."
Designed to fit any existing treadmill, TrekDesk is an affordable, full sized workstation that allows individuals the opportunity to gain the necessary amount of exercise daily to maintain health, prevent disease, strengthen muscles, boost mood and productivity, without requiring additional time during the day or extra motivation.
TrekDesk is currently available for sale online at TrekDesk.com for $479.00 including free shipping.
Join the TrekDesk "Movement Revolution" to learn more on TrekDesk's Facebook page.
# # #