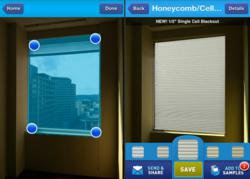 The thing we hear most often from customers is, 'I don't know what the blinds will look like.' The Window Shopper eliminates that worry completely.
(PRWEB) November 09, 2011
Window Shopper, a new mobile app available for iPhone, uses augmented reality to allow users to cover their own windows in real time in a matter of seconds, transforming the way people shop for window treatments. With the Window Shopper app, "trying on" window blinds and shades is now as easy as trying on a shirt at the mall. This tool give homeowners all the creative power and support they need to choose the perfect window treatments without stepping foot inside a big box store or decorator's shop.
"The thing we hear most often from customers who are on the fence about buying online is, 'I don't know what the blinds will look like.' The Window Shopper eliminates that worry completely," said Blinds.com CEO Jay Steinfeld.
You can simply snap a picture of a window or pull one from the camera roll and select the window shape. Once you have marked the corners of the window using the easy interface, swipe left and right to view different window treatment styles in the window.
"In an industry that has been slow to embrace technology, this app revolutionizes how people buy blinds and will help everyone who uses it to feel comfortable buying custom products, like blinds, online," said Steinfeld.
Key features of the Blinds.com Window Shopper iPhone app include the ability to:

Snap & Select: Take a picture of a window in your home, office, RV, boat...anything with a window you want to cover.
Shop: Browse through Blinds.com's most popular products on YOUR window. Don't see the style/color combination you are looking for? Download additional product packs until you find the one that works.
Sample: Get free color samples sent to your home so you touch and feel swatches and make sure the color matches your home's motif exactly.
Save & Sync with Wishlist: Like what you see? Save and sync your window treatment selections to your Blinds.com wishlist online.
Share: Want to show off what you designed or get a second opinion? Share on Facebook or email to your circle of friends.
The Blinds.com free iPhone app is now available for download from the Apple iPhone App Store.
BONUS: Until December 7, 2011, download the Window Shopper app, "like" Blinds.com on Facebook, and tag Blinds.com on Facebook for a chance to win a $500 shopping spree! Visit Blinds.com on Facebook for full details.
About Blinds.com - Blinds.com is the #1 retailer of custom window treatments on the internet, specializing in blinds, shades, shutters and draperies. It is currently #215 on the Internet Retailer 500 list and is the leader in the industry. Blinds.com sells twice as many blinds as its closest. We are the exclusive providers of the SureFit™ Guarantee, meaning if you mismeasure, we'll remake it for free. Read over 12,150 customer reviews (many with pictures or videos) to help you see the best and worst-rated blinds. They offer a 30-Day Price Guarantee: If you see a sale or discount on our site for the products you bought within 30 days of purchase, the difference will be refunded.
###