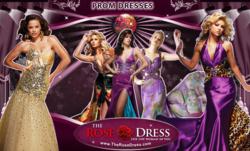 Prom 2012 doubles the thrill; doubles the fun at TheRoseDress.com
San Jose, California (PRWEB) November 04, 2011
Responding to the demand of the new batches that will be crowding prom 2012, TheRoseDress.com increased the prom dress selections by six times more by adding the creations of the newest designers, with outlines and flairs meeting the trend of 2012. Expect bolder color dresses, sexy halters, deep V-necklines, strapless dresses with sweetheart tops, and dresses with slits and cut-outs. Teens hunting for wholesome aesthetic can still find variety of colors, sizes, designs and styles to feast the eyes on and meet own preference.
On the other hand, regular favorites of TheRoseDress shoppers are still present and have plenty to offer too. These mainstays are great contributor of high quality dresses yet buyer friendly prices which gained TheRose fame among adult and young girls alike; new innovation that once again foretold of these designer's greatness. To mention a few are Alyce, Blush, Faviana, Jasz, Nina Canacci, Night Moves, Tony Bowls and Terani. Best sellers like Aspeed, Cinderella Divine, Chicas, CO, Eureka, JU, Jackie Won, Let's, May Queen, Nox Nariana, and Poly USA aren't left out in the big scene as these designers have amazing prom collections to showcase the youngsters too.
Moreover, the prom page is still subdivided in categories for narrow searching; these are designer prom dresses, affordable prom dresses, plus-size prom dresses, modest prom dresses, sexy prom dresses, Under $100 prom dresses and prom dresses under in stock inventory. This way ensures that anyone who visits prom page of TheRoseDress will leave with an order placed already.
Elegant upscale look matched with intricate detailing; sexy necklines; eye-catching twisting and body hugging silhouettes are the defining style of Alyce's artworks. Prom style that radiate mature character and prim, proper look fitting for achiever, independent young girls. In spite of the expensive look of these dresses, the prices are inexpensive so prom attendees are able to afford and enjoy Alyce's prom dresses and gowns.
Girls aren't afraid to show more skin or sexy females that are bold to show off some asset, Jasz Couture is the perfect designer to look for. Its style has the right amount of sophisticated glamour and sexiness yet not trashy. So, celebrate having such amazing female curves, nice legs, and flawless skin by donning Jasz's creation on any formal occasion to attend to.
Teens who wants demure look with subtle sense of sexiness, Night Moves has the right apparel to achieve this look. Vibrant colors and varying styles that complement lady-like personality will be so in on anyone's most anticipated prom night.
Fun and trendy; sexy and glamorous are Tony Bowls theme for all its prom dresses. These are perfect for young girls who are active and classy. Tony Bowls exquisite workmanship put just the right amount of character and style to all its creations that makes female teenagers the center of the spotlight on prom.
Introducing the newest designers of the TheRoseDress; the new additions in the family which will help keep the young ladies hip on prom 2012.
Mac Duggal Prom
Mac Duggal, a father of two and happily married for 25 years, arrived in the United States at the age of 23. His first design was an A-line gown with tulle overlay and hand painted stars on the lining which was called "wish upon a star" made a huge success and gave him entrance to the fashion world. The said silhouette remains to be the best selling classic today. Mac Duggal launched his first collection in 1985 which won an international acclaim. Mac's success has continued for over the past 25 years including receiving the DIVA 1998 Fashion Award for Designer of the Year in the Prom/Pageant category along with several other awards. Mac's designs are popular among celebrities, and socialites in television, movies, and pageants and in the music industry. In addition, Mac's designs are also seen in high end department stores and upscale boutiques throughout the United States and Europe and are regularly featured in fashion publications.
Teens who will be wearing Mac Duggal's prom line may expect to find each pieces expressing inner beauty which boldly states that one is not wearing same dress as anyone else as own personality exudes thru the dress worn. The prom line features novelties with gorgeous beading, excellent hand artwork, romantic florals and interesting cuts. A modern mix of classic elegance and sophistication that is flattering and timeless just perfect for teenagers who aim for self-expression.
Party Time Formals
Party Time Formals is established in 1985; a legend in the fashion industry which designs and manufactures exceptional prom dresses. Party Time Formals are known to provide gowns with vibrant colors, stunning color combination, flowing fabrics and exceptional quality dresses.
Party Time believes that the key factor to achieve a girl's dream is in finding a perfect dress which made Party Time Formals par from the rest and every young girl's favorites especially for girl's who wished to experience being on top of the world. The widespread popularity of PTF gained numerous invitations to be featured in publications like Prom Seventeen, Teen Prom, Savvy Magazine, and Pageantry Magazine. Teens that are free spirited, trendy and are inclined for high-class design, Party Time is the designer to look for.
Sydney's Closet Plus Size
Bigger built girl's who are in dire straits when looking for "In" apparel, can now take a deep breath because Sydney's Closet has plenty in store to doll up these curvaceous young ones. Sydney's Closet started when Phyllis Brasch Librach, President and Founder, strives to get a hip prom dress for her plus size daughter but had difficulty finding one which in turn inspired her to launch Sydney's Closet in January 2002. But that is after scouring factories, trade shows, and showrooms for over eight months in the United States and Canada searching for the right manufacturers to make fresh, fun and young plus size formal dress. Sydney's Closet created mainly to wipe off the tears of Phyllis own daughter and now all moms' with daughters in plus sizes can already wear frocks that rocks.
Me Prom by Moonlight
Me Prom fulfill every girl's fantasies in formal apparel from its incredible fit, to the highest quality fabrics and hand sewn Swarovski crystal details. Each gown was meticulously put together ensuring a unique workmanship and tasteful artistry. Me Prom by Moonlight's collection are not just dress but garbs which empowers feminine beauty of teenagers nowadays – outfits having luxurious high fashion look at affordable prices.
Wow Prom
Wow Prom was founded on 2002 by two veterans in the industry, Alan Davidson and Jim Ball. Its prom line tries to include styles for all shapes and sizes in sweet to sexy, straight to bouffant and everything in between. As Wow grew older in the business, experts of their own fields are being added to continuously create artistic production and meet the high demand. Over the years, Wow, able to develop good working relationship with organizations and stores that specialized in formal apparel, because of this, Wow Prom are able cater already the whole of USA, Canada, Australia and UK. Therefore, for prom dresses and gowns that will make the watchers exclaim "WOW", there's no one else to look for but "Wow Prom".
Josh and Jazz
Josh and Jazz have been in the forefront of prom industry for the past twenty years. From a humble beginning at the heart of garment district in Los Angeles, Josh and Jazz have grown to manufacturer to a worldwide distributor of special occasion dresses. Its dresses have been featured in many nationally distributed magazines and TV shows. Now, Josh and Jazz is the trusted name for the most dynamic selections of affordable prom attires around the world.
Any inquiries regarding products and services of TheRoseDress.com are welcome at live chat which can be reached thru http://messenger.providesupport.com/messenger/therosedress.html or emailed at askus(at)therosedress(dot)com or orderdesk(at)therosedress(dot)com
###