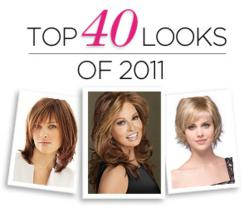 Dallas, TX (PRWEB) November 07, 2011
The Wig Experts at Wigs.com say that customers look forward to their Best Wigs campaign all year long. Why? Studies have shown that online shoppers in general want to be presented with 'the best of the best' of the products in which they are interested, and the booming alternative hair and wig industry is no exception. With this idea in mind, Wigs.com made it easy for shoppers to find the Top 40 Looks of 2011 by showcasing the best short wigs, the best medium wigs, the best long wigs and the best human hair wigs.
Within these four most popular categories, Wigs.com customers will find the top 10 wig styles from well-known brands like Raquel Welch, Revlon, Jon Renau and more. The site even took the campaign a step further by spotlighting the #1 winning style in each category. Exclusive high-definition videos accompany every Top 40 wig so that customers can truly see each wig in a 360 degree review or on a WigsTV model.
If that's not enough, Wigs.com even provides exclusive TruColor charts for each wig; the website calls TruColor a "true color experience" that shows individual wig styles in every available color for that style for a larger, more accurate look at the product. Wigs.com is excited to present its highly anticipated Top 40 Best Wigs of 2011 to the public, launching the campaign in November.
###