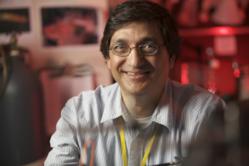 Buffalo, NY (PRWEB) November 02, 2011
Ravindra K. Pandey, PhD, Professor and Distinguished Member of the Department of Cellular Stress Biology at Roswell Park Cancer Institute (RPCI), received the 2011 Jacob F. Schoellkopf Medal from the Western New York chapter of the American Chemical Society at a November 1 ceremony in the Buffalo area. Honored for his extraordinary contributions to the fields of chemistry and chemical engineering, Dr. Pandey was unanimously selected to receive the award, which is the oldest of its kind in the nation.
A member of the RPCI faculty since 1990, Dr. Pandey has been at the forefront of research in the field of photodynamic therapy (PDT), developing new, more-effective photosensitizers that can be used for both imaging and treatment. He is the founder of Photolitec, LLC, an RPCI spin-off biotech company. PDT was pioneered by Thomas Dougherty, PhD, Chief Emeritus of Roswell Park's Photodynamic Therapy Center.
"Dr. Pandey has given us many examples of innovation to admire and applaud," said Candace S. Johnson, PhD, Deputy Director, Chair of the Department of Pharmacology and Therapeutics and Robert Lew and Anne Wallace Chair for Translational Research at RPCI. "He's advanced PDT by adapting it for use in new and very much improved therapies, and this translates to a major, major impact for people with cancer."
Dr. Pandey earned a PhD in medicinal chemistry from the University of Rajasthan in Jaipur, India. He was awarded junior and senior research fellowships from the Council of Scientific and Industrial Research (CSIR) and Indian Council of Medical Research (ICMR) and worked with porphyrin-based compounds as a postdoctoral fellow at the University of California, Davis and University College, Cardiff.
A past recipient of several Western New York Inventor of the Year Awards, Dr. Pandey has also been honored by the International Society of Heterocyclic Chemistry and the International Society of Porphyrins and Phthalocyanines, which in 2010 presented him with its Thomas Dougherty Excellence in PDT Award. He is a founding member of the Editorial Board of the Journal of Porphyrins and Phthalocyanines and serves on the advisory board of Bioconjugate Chemistry and the editorial boards of Nanomedicine and Current Organic Synthesis.
Past recipients of the Schoellkopf Medal include RPCI faculty T. Ming Chu, PhD, DSC, Chair Emeritus of Diagnostic Immunology Research, who discovered the prostate-specific antigen (PSA) and developed the PSA test for early detection of prostate cancer (1997); and Thomas J. Dougherty, PhD, Professor of Oncology, Chief Emeritus of the PDT Center, and developer of PDT (1988).
The mission of Roswell Park Cancer Institute (RPCI) is to understand, prevent and cure cancer. RPCI, founded in 1898, was one of the first cancer centers in the country to be named a National Cancer Institute-designated comprehensive cancer center and remains the only facility with this designation in Upstate New York. The Institute is a member of the prestigious National Comprehensive Cancer Network, an alliance of the nation's leading cancer centers; maintains affiliate sites; and is a partner in national and international collaborative programs. For more information, visit RPCI's website at http://www.roswellpark.org, call 1-877-ASK-RPCI (1-877-275-7724) or email askrpci(at)roswellpark(dot)org.
###