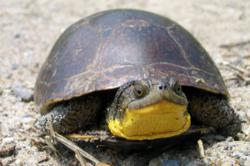 "This is a good opportunity for us to do local conservation work on a species of special concern in Michigan," said Detroit Zoo Curator of Reptiles Jeff Jundt.
Silver Spring, MD (PRWEB) November 03, 2011
The Detroit Zoological Society recently partnered with the Herpetological Resource and Management (HRM) near Jackson, Michigan to lend a hand to the Blanding's turtle. The Association of Zoos and Aquariums explores this story on its Explore blog.
Each year, the Blanding's turtle travels up to a mile away from its habitat in the Shiawassee National Wildlife Refuge (NWR) in Saginaw, Michigan to lay its eggs – the great lengths, of which, make the Blanding's turtle and its eggs prone to predators and automobile-related death. The Detroit Zoo and the Herpetological Resource Management have partnered on a conservation project to protect this species.
The Explore blog brings you exciting, informative, and inspiring wildlife conservation features, zoo and aquarium stories, and profiles. Be sure to visit http://wildexplorer.org to get your wild animal fix!
Founded in 1924, the Association of Zoos and Aquariums is a nonprofit organization dedicated to the advancement of zoos and aquariums in the areas of conservation, education, science, and recreation. Look for the AZA logo whenever you visit a zoo or aquarium as your assurance that you are supporting a facility dedicated to providing excellent care for animals, a great experience for you, and a better future for all living things. The AZA is a leader in global wildlife conservation, and your link to helping animals in their native habitats. To learn more visit http://www.aza.org.
###