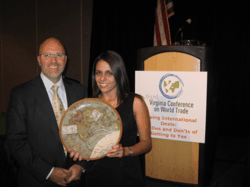 Truly this company is a Virginia success story. We lucky, fortunate and proud to have them call Virginia their home.
Virginia Beach, VA (PRWEB) November 03, 2011
At the recent Virginia Conference on World Trade banquet held in Norfolk, VA., SteelMaster Buildings was awarded the Commonwealth of Virginia's Compass Award for Excellence in International Trade. The Compass Award was presented by Paul H. Grossman Jr. from the Virginia Economic Development Partnership. The purpose of the award is to recognize companies that have excelled in global trade while promoting the best interests of its employees and surrounding community, contributing to the economic health and quality of life of Virginians while positively representing the Commonwealth in the international arena.
SteelMaster Building's motivation to begin pursuing export sales has been to secure the continuous growth of its business. Recognizing that 95 percent of the world's consumers live outside of the U.S., SteelMaster Buildings began to develop a focused and structured international sales strategy five years ago. In fact, SteelMaster joined the VALET program offered by the Virginia Economic Development Program (VEDP) in 2006 in efforts to learn more about international trade opportunities as they recognized the domestic market saturation and wanted to expand global reach to take advantage of the weak U.S. dollar overseas.
In less than 5 years, SteelMaster has built a multinational web of distributors and resources which it allows to differentiate itself among its competition. They have been able to expand their distributor network from representation in 4 countries to currently over 50 countries represented. The distributors in these countries work to promote their products, drive sales, provide in-country customer service and offer technical assistance to overseas customers. In 2006, international sales represented only less than 5% of total company sales and by 2010; the company's sales have grown up to represent 15% of total company's sales. SteelMaster is focused on expanding its brand to those nations that exhibit a need for economical, easy to construct building solutions.
###