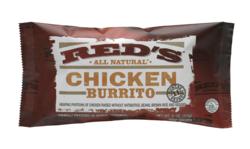 FAIRFIELD, Conn. (PRWEB) November 04, 2011
Red's All Natural just went a little further south of the border with the introduction of its new line of all natural quesadillas. Having launched just last year, the Connecticut-based company is being heralded by food lovers everywhere for its hearty AND healthy line of 100 percent all natural frozen burritos. Now, the Red's family multiplies as quesadillas join burritos at the forefront of the healthy food movement.
Each four and a half oz. quesadilla is crafted with antibiotic and hormone-free meats, and stuffed with the freshest veggies and 100 percent natural beans and spices, all tucked snug between two bakery style tortillas. Available in four delicious new flavors—bean and cheese, pulled pork, steak and buffalo chicken—Red's quesadillas make for the perfect guilty pleasure…minus the guilt.
"The burritos were such a hit, we knew we couldn't stop there," said Red's founder and CEO Mike Adair. "People love the burritos because they're filling and delicious and 100 percent good for you. We wanted to replicate those same qualities in the quesadillas while giving customers the option for a meal OR snack. We were able to create a lighter alternative to the burrito without skimping on any of the good stuff."
With its convenience and versatility, the possibilities are endless. Red's can be prepared on the grill for a wholesome, delicious feast the whole family will enjoy, or heated in a microwave oven for a nutritious and filling snack in a hurry.
The addition of the quesadillas takes taco nights to a level. "It started as "Tuesday Burrito Night" in our home, and we're sure others will enjoy the variety at dinnertime on Mexican night just as much as we do," said Adair, who recommends the quesadillas on a Panini press adorned with all of your favorite toppings for a really genuine, Mexican dish.
Look for Red's All Natural quesadillas next to their burritos in the frozen food section of a retailer near you. Each individually-wrapped serving sells from $4 to $5 and contains two, four and a half oz. quesadillas in flavors that can be enjoyed by meat-lovers and vegetarians alike. And when hunger really strikes, Red's 11 oz. burritos are available in four delicious flavor combinations: turkey molé, chicken, steak and bean and rice. Red's All Natural products have a frozen shelf life of 18 months.
For more information about Red's All Natural, visit http://www.redsallnatural.com.
ABOUT RED'S ALL NATURAL
It all began on a Tuesday night in 2008 at the New Hampshire trailer of high school sweethearts Mike and Paige Adair. Busy with graduate school, the couple designated Tuesdays as sacred burrito night. But it wasn't sacred for long, as word had quickly spread around town about Paige's gift for all things burrito, and it wasn't long before the whole neighborhood was lined up outside their door. Paige's creation was an obvious hit, so Mike combined his business background and love for food with his wife's infamous burrito recipe and Red's All Natural was born. Named after their adopted dog, Red's sold its first 100 percent all natural burrito in New England in 2010 and has since grown to include four frozen burrito combinations sold at retailers nationwide.
# # #