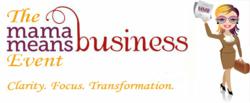 I have to say this course was one of the most enriching, wonderful experiences I've had. I actually took this course having just an idea about something and now I have a complete strategy and plan and I know I'm going to succeed!
- Tanya Stork, Realtor.
Broomfield, CO (PRWEB) November 03, 2011
Mama Means Business and its founder Tara Powers today announced a special Denver-area event for women entrepreneurs who are seeking to launch new businesses or advance existing ones.
The MAMA MEANS BUSINESS EVENT takes place on November 18, 2011 at the urbanely stylish Aloft Hotel in Broomfield, Colorado from 8 am until 5 pm and is keynoted by former Colorado State Representative, four time cancer survivor and "mompreneur," Dianne Primavera on the topic "Reengineering your future, taking risks and overcoming obstacles."
The Mama Means Business Event makes excellent use of ONE DAY for women solo-preneurs and business owners to discover how to accelerate their business successes with less stress by building an authentic business model that generates exceptional income and provides strategic tools and techniques to give new businesses a kick-start and take existing businesses to higher levels.
At the Mama Means Business Event attendees will design their own Business Acceleration Blueprint™ to radically grow their income in only 12 months and transform their lifestyles. Attendees can expect to:
o Clarify their vision and values in order to make better business decisions that are in complete alignment with who they are.
o Overcome their inner critic and recognize the ways that they may be holding themselves back from their true potential.
o Define their expert status and learn how to use it to create a committed group of supporters and advocates.
o Make a stretch goal for 2012 revenue and a simple plan to make it happen, including creating additional streams of income.
o Leverage their talents and learn from skilled marketing professionals what marketing strategies and methods are proven to work for their unique business lifecycles.
o Identify their support plans and whom they need in their corner to move forward faster.
o Mastermind with other entrepreneurs and receive advice and feedback on their business growth model.
See Video Intro from Tara Powers
Says, Dr. Shelly Dowling, founder of Laser Focused Weight Loss, of her Mama Means Business training experience:
"I've done a lot of workshops, brainstorming sessions, and masterminding groups and this is one of the most effective things I have ever done because what I got was a plan from beginning to end that I can take action on. I think Tara does a great job and I look forward to doing more work with her!"
Presenters and speakers for this event include:
Andrea Vahl, Co-author of Facebook Marketing All-in-One for Dummies and Social Media Strategist and Coach, is presenting on the "Secrets to Using Social Media to Get More Likes, Links, Followers and Fans and Ultimately Make More Money!"
Hilary Blair, National Networking and Presentation Coach and an Instructor at the Denver Center for Performing Arts Academy, is presenting "From the Elevator to the Shark Tank: How To Pitch your Business with Confidence and Ease."
Melani Ward, Recognized Marketing Strategist and Content Expert is presenting "The 5 Step Cure for the Boring, Useless and Poverty Ridden Website."
Special guests include:
Bamboobies Creator, Founder, and Mom of 3, Kerry Gilmartin will do an interview with Tara on stage about how she grew her business more than 700% in the past year and got her products into over 200 stores worldwide.
Art from Ashes Executive Director Catherine O'Neill will lead participants through a creative visioning exercise to discover their true meaning of success.
For more information on the event and to REGISTER, go to mamameansbusinessevent.com
Event SPONSORS: Information on remaining sponsorship opportunities is available at mamameansbusiness.com/sponsor
"I just finished Tara's course and I have to say it was one of the most enriching, wonderful experiences I've had. I actually took this course having just an idea about something and now I have a complete strategy and plan and I know I'm going to succeed!" - Tanya Stork, Realtor
About the Mama Means Business Founder and Event Organizer:
Tara Powers, M.S. is The Cheerleader for mom-preneur businesses providing women with already proven resources that help them launch or grow successful businesses FAST. She teaches women business owners how to align their values with their vision and so they can create the lifestyle they dream of having and accelerate their business quicker and with less headaches.
Tara is the founder of Mama Means Business and is an experienced consultant, facilitator and business strategist with over 12 years as a successful corporate consultant to Fortune 500 companies around the country. She has worked directly with such companies as Crocs, Janus, Aflac, Virgin America Airlines, Key Equipment Finance and Western Union.
Tara has been a featured expert on The Real Mom TV Network as well as a current member of the exclusive Millionaire Protege Club with Ali Brown and James Roche. Tara's mission is to help encourage more conscious companies one person at a time.
The Mama Means Business Event is donating 10 percent of event proceeds to support the Pachamama Alliance, whose mission is to empower indigenous people of the Amazon rainforest to preserve their lands and culture and to educate and inspire individuals everywhere to bring forth a thriving, just and sustainable world.
All product and company names herein may be trademarks of their respective owners.
# # #