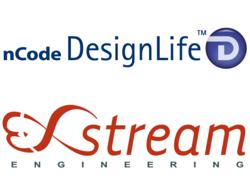 Predicting the fatigue and durability of this large variety of composites is the challenge that HBM-nCode and e-Xstream are joining forces to address.
Southfield, MI (PRWEB) November 03, 2011
nCode, the leading brand of fatigue and durability software offered by HBM, announced today that methods to predict the fatigue of composite materials will be introduced in the next release of nCode DesignLife software. These innovative and industry leading solutions for fatigue of composites are a result of collaboration between HBM-nCode and e-Xstream engineering, provider of state-of-the-art material modeling platform, DIGIMAT.
"With the drive for reduced weight and increased fuel efficiency, the transportation sector is turning to lightweight materials such as polymers and composites. The challenge for automotive and aerospace manufacturers is to ensure the required longevity and durability under real operating conditions," commented Steve Tudberry, Vice-President HBM-nCode software. "The partnership with e-Xstream brings together the global leaders in our respective fields to provide a seamless and robust solution for fatigue analysis of composites."
"The use of composites in the automotive and aerospace industries is booming. This growth concerns a large mix of composites types, manufacturing processes and the associated applications, cost and performances. Predicting the fatigue and durability of this large variety of composites is the challenge that HBM-nCode and e-Xstream are joining forces to address," stated Roger A. Assaker, CEO of e-Xstream engineering.
The fatigue of composites poses particular challenges for engineers because the properties of the constituent parts, polymer (resin) matrix and fibers, interact to determine the fatigue properties, which vary in each location and direction. The initial focus of the DesignLife solution is in the area of engineering plastics, such as short fiber polymers, which are commonly used in the automotive industry. DIGIMAT determines the appropriate material parameters for a complete component, which can then be coupled with a finite element analysis. nCode DesignLife combines the calculated stresses together with specific fatigue properties to predict the fatigue lives of the whole component under loading conditions. Further developments for additional types of composite are also planned.
A free webinar discussing these new methods for fatigue of composites available in nCode DesignLife 8 will be presented to the public on November 16, 2011. To register, visit http://www.hbm.com/ncodewebinars.
About HBM-nCode
nCode products are provided by HBM, a world-wide technology and market leader, offering products and services across the entire measurement spectrum, from virtual to physical. For over 25 years, nCode has been the leading brand for durability and data analysis solutions. Its technologies help customers understand product performance, accelerate product development and improve design. The power and ease of use of HBM technologies is a direct result of its world-class development process, expertise and in-depth experience of a broad range of industries. nCode product development is ISO9001 certified. Product support is available through HBM-nCode offices in Europe, North America and Asia. For more information, please visit http://www.hbm.com/ncode.
About e-Xstream engineering
e-Xstream engineering is a global software and engineering services company, 100% focused on state-of-the-art modeling of advanced composite materials and structures. DIGIMAT, the unique nonlinear multi-scale material and structure modeling platform offered by e-Xstream, is used by material suppliers and users across the industries, to considerably reduce the time and cost of developing innovative composite products. With DIGIMAT you have the actual, correct behavior of a composite material, and don't need to be unnecessarily conservative in your designs. Your composite CAE solution becomes predictive and accurate enabling you to optimize your composite structure design with confidence. An optimal design translates into lighter, cheaper, higher quality products that are brought faster to the market. e-Xstream complements its deep expertise in material and structural modeling and numerical simulation with the business understanding of a large variety of materials and industries. For more information, please visit http://www.e-Xstream.com
# # #