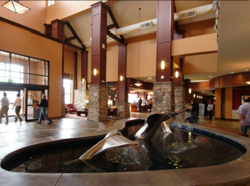 The Angel Tree is an outstanding way to help children of families in need enjoy a happier holiday season.
Anchorage, AK (PRWEB) November 04, 2011
The Embassy Suites Hotel in Anchorage Alaska (http://www.embassysuitesanchorage.com/) is sponsoring the Salvation Army Angel Tree Program.
"We hope to help Angel Tree reach more children than ever before, through the generous and supporting hearts of the hotel staff, our guests and the community at large," says Embassy Suites Anchorage General Manager Bill Remmer.
A Christmas tree in the hotel lobby will be decorated with unique Salvation Army Angel Tags. These tags will have the name, age, and gender representing a child in the Anchorage Alaska area. Hotel guests, visitors and staff are encouraged to select an Angel tag from the tree and purchase one or more gifts intended for the child on the tag. Then they are to return the gifts with the tag attached to be placed under the tree. The gifts will be picked up on the 16th of December to be distributed to the children.
The trees will be decorated and ready for your donation by November 7th so we welcome both Embassy Suites Anchorage hotel guests, our staff, and the local community to participate.
###