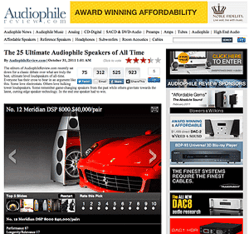 (PRWEB) November 03, 2011
AudiophileReview.com, a daily blog about all things high end audio, today released their list of the Top 25 Audiophile Speakers of all time. The list was compiled by AudiophileReview.com's editors and included speakers costing $5,000 and more per pair from the modern era of audiophile speakers as well as all-time classics from the 1970s, 1980s and 1990s.
Voting on this highly subjective subject was done using a method inspired by Bill James' Sabremetrics (the science behind baseball) which is the idea behind the recent Brad Pitt movie "Money Ball". Every speaker was judged in five categories including: Performance (100 points), Relative Value (25 points, Longevity/Relevance (25 points), Aesthetics (25 points) and Lust Factor (25 points) for a total of 200 possible points.
The speakers included on the list as well as the runners up are presented in a slideshow that you can see on AudiophileReview.com by clicking here.
The slideshow includes images of the world's most sexy, expensive and advanced speakers. More importantly, you are invited to vote on each slide using an interactive 1 to 10 rating, you can post comments using Facebook, you can Google +1 the speakers that you like the best and more.
"Its always fun to take somewhat scientific look at a highly emotional, subjective topic like what are the best speakers of all time" says publisher, Jerry Del Colliano. "You wanna talk about a wish list – we've got one for you here with every size, shape and design of high end speakers. Who won? You have to click over to see for yourself."
About AudiophileReview.com
AudiophileReview.com is a leading blog edited by veteran audiophile writer, Steven Stone. It is a sister publication to HomeTheaterReview.com, HDTVetc.com and HomeTheaterReview.com as part of Luxury Publishing Group Inc. It is free to read AudiophileReview.com and comments are encouraged via Facebook.
For more information about AuidophileReview.com, the Top 25 Speaker list, to interview Jerry Del Colliano, Steven Stone or other materials call 310.860.9988.
# # #