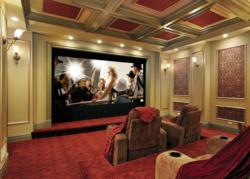 Combining one of our state-of-the-art digital projectors with a Panamorph lens means that you get a truly immersive, stunning movie theater experience in the home.
Colorado Springs, CO (PRWEB) November 03, 2011
Panamorph, Inc. today announced full compatibility with the entire line of Digital Projection's (DPI) popular high-performance home theater projectors.  As the result of strong communication and cooperation between the two companies, Panamorph has created a complete line of anamorphic lens systems that will convert any of DPI's home theater projectors from the 16:9 home theater format into the 2.35:1 format of today's state-of-the-art cinemas.  This combination delivers images far larger and more immersive than those created by today's flat panel displays.  By supporting the wider 2.35:1 aspect ratio of most major motion pictures – the same used in commercial cinemas – the combination of a Panamorph lens system with a DPI projector and 2.35:1 screen eliminates the annoying black "letterbox" bars seen on LCD, LED and plasma displays and delivers an image literally 80% larger than on 16:9 screens of the same height.
 
"Front projection is the only technology that can deliver a genuine cinematic experience in the home.  Flat panels – even the largest ones currently available – are simply too small to give anywhere near the same sense of immersion," commented Michael Bridwell, DPI's Director of Marketing.  "In addition, the fact that most major motion pictures are displayed on these sets with annoying black letterbox bars means that the impact of widescreen movies is greatly diminished.  Combining one of our state-of-the-art digital projectors with a Panamorph lens means that you get a truly immersive, stunning movie theater experience in the home.  Those black bars are gone and the image now seems to wrap around you.  DPI is proud to be associated with Panamorph, who shares the same dedication to producing the best possible image quality as DPI." 
 
"By creating a full set of lens systems that fit the entire lineup of DPI's incredible Emmy Award-winning DLP projectors, Panamorph now can claim compatibility with the finest home theater projectors on the market,"  said Russell Warnhoff, Sales Manager for Panamorph.  "No other company can surpass DPI's reputation for delivering amazingly bright, commercial cinema quality images in the home.  It was truly our pleasure to have a DPI Titan projector combined with our statement DC1 lens as the centerpiece of our "Sixty Years of True Widescreen Cinema" display at CEDIA this year.  DPI's combination of extreme high-brightness and incredible DLP image fidelity, paired with our state-of-the-art DC1 optics, enabled us to have a presentation that people came back to experience over and over again.  Panamorph's lens systems combined with DPI's projector technology actually deliver higher resolution than most commercial digital cinemas because of the anamorphic widescreen enhancement process.  Most people don't realize that they aren't experiencing full HD performance when viewing widescreen motion pictures on a 16:9 flat panel display because 25% of the screen is wasted on those annoying black "letterbox" bars.  That's why today's top home theaters use anamorphic widescreen projection systems to properly display major motion pictures on a wider 2.35:1 screen."
 
Panamorph makes a full line of anamorphic lens attachments from their "plug and play" fixed FVX200 at MSRP $2995 to their state-of-the-art, ultimate performance automated DC1 lens system at MSRP $9995.  For any DPI projector, there is a lens system available for the perfect match of price and performance.  For an amazing 30 second video demo of how a Panamorph lens system can convert a standard 16:9 letterboxed image into a immersive widescreen image – visit Panamorph at http://www.panamorph.com.  What's more, watching the demo will qualify customers for a special discount on the lens system of their choice.
 
Be sure to visit your Panamorph or DPI dealer for special promotions on the ultimate home cinema system from now until the end of December, 2011!
 
About Panamorph
Panamorph is the most recognized and recommended anamorphic lens brand in the digital projection industry.  Our history began when home cinema purists demanded high-performance, affordable lens systems to duplicate the dramatic imaging process that has been used by the commercial film industry for over fifty years.  Blending a thorough understanding of the limitations of older lens designs with innovations stemming from thirty years of experience in high-end optical design and manufacturing, Panamorph's patented hybrid cylindrical/prism lens systems are ushering in a new age of home cinema experience that must be seen to be believed.
 
For more information on Panamorph or the immersive experience of anamorphic lens systems, visit http://www.panamorph.com or contact John Schuermann directly.
For more information on DPI's line of projectors, visit http://www.digitalprojection.com.
###