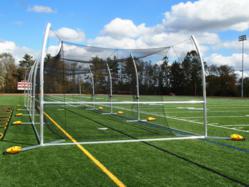 Royerford, PA (PRWEB) November 08, 2011
AAE (Aluminum Athletic Equipment Co.), manufacturer of top-quality athletic equipment, introduces its new portable batting tunnel that not only has the durability to withstand both practice and the elements, but also can be moved as frequently as necessary to whatever location is available to hold batting practice.
The burden of trying to locate a precise, permanent location for a batting practice is now alleviated by this portable batting tunnel. Ideal for both indoor and outdoor use, this batting cage is simple to use because it's entirely self-contained and has no tedious tie-down cables beyond the posts. In addition, it eliminates the need to pour costly concrete, which is required for most typical ground sleeve installations.
This portable system has comparable strength to an in-ground model with offset uprights inserted into welded aluminum bases and receptacles to provide frame support. Also, it features aluminum supports on the top and bottom that are bolted to receptacles to secure the structure as one solid unit. The hardware is constructed of entirely rust-proof galvanized steel and stainless steel. The system also features pulleys to provide easy raising and lowering of the protective netting - allowing for quick adjustments to speed up relocation. All components on the system are rounded to allow for use on artificial surfaces, natural grass, and even indoors.
The portable batting tunnel is available in two standard sizes or you can call for details on custom manufacturing one to your own specifications. This system is protected by our AAE Warranty and is proudly made in the USA.
Since inventing and patenting the aluminum rocker hurdle in 1950 for the track marketplace, AAE has introduced a multitude of new products for use by coaches and athletes worldwide. With the use of advanced technology and design innovations, the firm makes over 500 items, including: track hurdles; track starting blocks; discus cages; pole vault pits; high jump pits; long jump pits; permanent, portable, hinged or rotating football goal posts; semi-permanent or portable soccer goals; field hockey goals; lacrosse goals; baseball batting cages; baseball foul poles; ball stopper protective sports netting; portable press boxes; team benches; portable bleachers and Kronum goals. AAE develops, fabricates and assembles most products at its Royersford headquarters and manufacturing location near Philadelphia. For more product information call 800-523-5471 or visit myAAEworld.com.
# # #