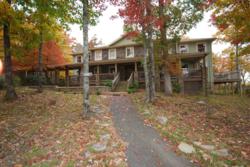 With at least nine of the properties offered absolute regardless of price and seller financing available to all purchasers, there is no other better time to buy than December 17th
Boone, NC (PRWEB) November 04, 2011
For those wishing to own a premier mountain home in Boone, North Carolina, December 17th will be the opportunity to buy at your price. Chartwell Auctions annouces that eighteen (18) single-family homes and two (2) condominiums located in Watauga County, just seven miles east of downtown Boone, will be offered individually at Auction at the Broyhill Inn and Conference Center. At least nine of the properties will be offered absolute to the highest bidder, regardless of price. Current taxable values range from $257,400 to $3,742,500 however suggested opening bids range from only $35,000 to $495,000. Seller Financing is available to both owner-occupant and investor purchasers.
The auction will be conducted by the southeast division of Chartwell Auctions, with offices in Charlotte, NC, on behalf of corporate entities controlled by brothers David and Earl Kaplan. In October 2011 Chartwell Auctions successfully marketed and sold the 381-acre Boone, NC Forest Summit development on behalf of these same owners. Ownership has decided on this one-time sale of these remarkable 20 homes passing substantial savings on to new owners in an effort to focus on their primary business, a prosperous book company headquartered in the western U.S.
A description of the properties to be offered individually at auction are as follows:
(1) Three-story 10,538 SF Mansion on 10 luscious acres built in 1995 with 11 bedrooms and 9 full bathrooms. This gorgeous residence is fully furnished and features marble flooring, custom kitchen, elaborate craftsmanship and three levels of decking.
(17) Single-family homes built between 1996 -2000. The homes are two and three-story residences ranging from 4,204 to 5,892 square feet on lots from 1 to 2.03 acres as high at 3700 feet above sea level. The homes range from deluxe fully-furnished homes to fixer-uppers. Two of the homes are currently rented as high as $19,800 per year. There is an enormous potential for both long-term rentals to college students attending nearby Appalachian State University or short-term rentals to tourist who have historically flocked to the Boone area in all seasons of the year.
(2) Condominiums built in 2000. These condominiums each feature two bedrooms with an office and 2 full bathrooms. They are approximately 1,424 square feet each. Both condominiums are currently leased with rents as high as $11,880 per year.
Jason Dolph, CCIM, the Senior Vice President with Chartwell Auctions states "We are so very pleased to be involved with this unprecedented auction of mountain homes in Boone, North Carolina. I believe there is no mountain town east of the Rockies that offers such fantastic views, attractions, shopping and activities for outdoor enthusiast. With at least nine of the properties offered absolute regardless of price and seller financing available to all purchasers, there is no other better time to buy than December 17th".
There are three open house events providing prospective purchasers the opportunity inspect each of the properties that will be offered at the auction from 10:00 A.M until 4:00 P.M. on the following Saturdays: November 26th ; December 3rd; and December 10th. All open house attendees must first register at Auction Parcel #2 located at 351 Whispering Hills Rd., Boone, NC 28607 where they will receive special viewing instructions.
The auction will take place on Saturday, December 17, 2011 at 12:00 Noon at the Broyhill Inn and Conference Center located at 755 Bodenheimer Dr., Boone, NC 28607. Registration will begin at 11:00 A.M. Online bidding is also available to qualified bidders through http://www.chartwellauctions.com.
For a free Color Brochure with Terms of Sale, property photographs and additional information please call Chartwell Auctions at 704-831-8983 or visit http://www.chartwellauctions.com
# # #