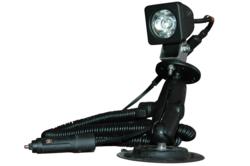 The LED10W-1SCB combines our most popular and versatile LED spotlight with a highly adjustable suction cup mount.
Kemp, TX (PRWEB) November 07, 2011
The LED10W-1SCB LED Spotlight with Double Ball Joint Suction Cup Base from Magnalight.com offers users an adjustable and easily mounted Led lighting solution that can be adapted to almost any application. The LED10W-1SCB is designed with a high power 10 watt LED light head matched with a double ball joint mount and high strength suction cup base.
This versatile mounting system allows users to mount this unit to smooth surfaces such as vehicle roofs, or in locations where a magnetic mount normally wouldn't work such as fiberglass boat hulls or aluminum wall panels. Vehicle tested to 90mph, this double ball joint and suction cup mounting platform provides an easily attached and highly secure mounting option that also allows users to adjust the spotlight through 360 degrees of rotation and 140 degrees of tilt. Producing a powerful 900 lumens of light output, this LED spotlight can illuminate areas up to 250 away with only 40 feet of beam spread at its maximum reach.
Operators can also choose an LED floodlight version of this unit to produce a much wider beam spread for applications such as worksite lighting. The LED spotlight on this unit provides high performance yet uses only 10 watts of power at .8 amps, making it ideal for use on vehicles and boats where energy efficient power consumption is critical. These units can automatically sense incoming voltage levels and adjust accordingly, allowing users to utilize a wide range of voltages from 9 to 48 volts DC without the need for special transformers or adapters. The extruded aluminum housing on these units is IP68 rated waterproof and sealed against intrusion from dust and dirt, making these LED spotlights extremely durable and weatherproof.
A single wiring pigtail ending in a Deutsch IPD / LADD DT04-2P connector allows operators to utilize a variety of cord options and the optional black or white housing colors allow users to match color schemes as well. These suction cup mounted LED spotlights are powerful, durable, and highly efficient lighting solutions that are applicable to a wide range of uses including security lighting, work lighting, hunting, and military operations.
"The LED10W-1SCB combines our most popular and versatile LED spotlight with a highly adjustable suction cup mount," said Rob Bresnahan with Larson Electronics' Magnalight.com. "For operators looking for 12/24 volt portability around vehicles, boats and equipment, this suction cup mount LED light with cigarette plug is a convenient way to provide high powered task lighting."
Larson Electronics' Magnalight produces a wide range of portable LED lights, LED work lights, LED light towers, LED floodlights and LED equipment lights. The entire line of Magnalight lighting equipment can be viewed by visiting Magnalight .com, or you can call 1-800-369-6671 to learn more about custom ordering options. For international inquires call 1-214-616-6180 for more details.
###