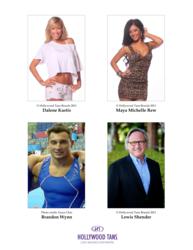 A wide-range of people tan at Hollywood Tans for a variety of reasons. Our new tan-bassadors exemplify that diversity and individuality.
Carlsbad, CA (PRWEB) November 02, 2011
Tanning industry leader Hollywood Tans® today announced three new "tan-bassadors" who will act as spokespersons for the Hollywood Tans brand. The three spokespersons represent the diverse range of clients who tan at Hollywood Tans salons nationwide.
The three tan-bassadors are:

Brandon Wynn, known as Lord of the Rings, is currently training for the 2012 U.S. Olympic gymnastics team. Wynn is a two-time (2010, 2011) U.S. National Champion on the still rings and the gold medal winner in the event at the 2011 Pan American Games.
Dalene Kurtis, Playboy's Playmate of the Year for 2002, is a jewelry and swimwear designer, sports reporter and commentator and mother.
Maya Michelle Rew, self-described Video Vixen, is an internationally known go-go dancer who has appeared in countless music videos and graced the cover of dozens of men's and auto enthusiast magazines.
"A wide-range of people tan at Hollywood Tans for a variety of reasons," said Lewis Shender, chief executive officer of Hollywood Tans Group, LLC, "and our new tan-bassadors exemplify that diversity and individuality. Brandon is a world-class athlete who tans to complement his competitive edge, Dalene tans for the confidence and look it gives her when she's in front of the camera, and Maya tans because a tan is 'the' fashion essential for nights out on the town."
Hollywood Tans' tan-bassador campaign takes a different and fresh look at indoor tanners and the indoor tanning experience. "While many in the indoor tanning industry have flocked to reality TV stars for endorsements, Hollywood Tans' approach is based on real people who are relatable and motivational," said Shender.
The primary vehicle for Hollywood Tans' tan-bassadors will be social media, experience and event marketing, and complementary in-store messaging and media coverage. Hollywood Tans' tan-bassadors will not talk "at" consumers or focus on their own celebrity as much as they will create real and personal dialogues about why they tan and the benefits they derive from tanning.
About Hollywood Tans
Hollywood Tans is a nationwide chain of over 140 indoor tanning salons providing both UV and sunless tanning services. Hollywood Tans salons are independently owned and operated and are the exclusive U.S. outlets for Hollywood Tans-branded lotions and products. Its salons focus on stand-up tanning, which provides great results in less time than traditional tanning beds.
About Brandon Wynn
Brandon Wynn is from Voorhees, New Jersey, a suburb of Philadelphia, Hollywood Tans' hometown. Wynn is one of the fastest growing names in mens gymnastics. He's been affectionately dubbed "Lord of the Rings" and holds two still rings National Championship titles, a Pan American gold medal and two consecutive NCAA Championship titles in the same event. Currently, Wynn is training to become a member of the 2012 U.S. Olympic Team.
About Dalene Kurtis
Dalene Kurtis, from Los Angeles, was 2002's Playboy Playmate of the Year and is frequently a featured Playmate in the magazine. Kurtis, in addition to caring for her son, is a fashion designer and jewelry entrepreneur.
About Maya Michelle Rew
Maya Michelle Rew, of Los Angeles, is one of the city's—and world's—most sought after go-go dancers and models. She's appeared on a host of magazine covers and has appeared in many music videos alongside the entertainment industry's renowned musicians.
Hollywood Tans Online & Social Media:
###