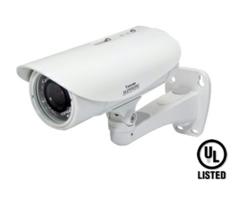 SUNNYVALE, Calif (PRWEB) November 04, 2011
VIVOTEK, Inc., the industry leader in megapixel and HD network camera technology, announced today that a wide range of VIVOTEK megapixel & HD IP cameras, including models in the SUPREME series, have achieved UL listing by Underwriters Laboratories, Inc., under the UL-60950-1 standard for Information Technology Equipment Including Electrical Business Equipment.
Underwriters Laboratories® Inc. (UL) is a global independent product safety certification organization offering expertise across five key strategic businesses: Product Safety, Environment, Life & Health, University, and Verification Services. UL develops standards and test procedures for products, materials, components, assemblies, tools, and equipment, chiefly dealing with product quality and safety. "Many systems integrators require UL approved products due to the high safety and quality standards of their projects, especially in government," said Harry Hu, Director of Sales at VIVOTEK USA. "With the UL certification providing confirmation of VIVOTEK's quality and safety, customers can be completely confident deploying our megapixel and HD cameras in critical areas with strict regulatory requirements."
VIVOTEK cameras listed by UL include outdoor models FD8362, FD8362E, P8330, IP8332, IP8352, and IP8362, as well as indoor models FD8162, IP8151, IP8151P, IP8162, and IP8162P. All cameras listed by UL range from VGA to 2 Megapixel or 1080p HD resolutions and feature H.264 compression as well as options for MPEG4 and MJPEG, allowing users to tailor each camera stream to their individual needs for maximum flexibility. In addition, the cameras are equipped with a removable IR-cut filter for true day/night functionality, SD card slot for local storage, and POE support allowing the cameras to be powered with a single network cable.
One key feature that differentiates the outdoor cameras from indoor models is the IP66 or IP67 rated weatherproof housing that protects the cameras against rain and dust and ensures operation under poor weather conditions. Furthermore, the FD8362E supports extended temperature range, allowing the cameras to be used in environments from -40° to 55°C (-40° to 131°F), with the vandal-proof housing effectively providing robust protection from vandalism.
The IP8151P and IP8162P are indoor box cameras from the SUPREME series are equipped with the latest P-Iris lens technology, offering a much more precise degree of iris lens opening which provides better focus for objects at various focal distances. FD8162 and IP8362 are also popular UL listed cameras that feature 1080p full HD resolution with IR-cut filter with built-in IR illumination for nighttime viewing.
VIVOTEK is planning to have other SUPREME series models become UL certified in the near future. For more details on VIVOTEK's products and offerings, please visit us at http://www.vivotek.com
About VIVOTEK
VIVOTEK Inc., established in 2000 and publicly listed on the Taiwan Stock Exchange (TAIEX: 3454), has quickly taken its place as a technology leader and total solution providers in the IP video surveillance industry. VIVOTEK is known for excellence, delivering total IP video surveillance solutions that embody the complete integration of video codecs, optoelectronics and networking technologies. VIVOTEK's innovative R&D teams are dedicated to developing highly reliable IP surveillance products, including network cameras, video servers, video receivers, NVR, and central management software to deliver practical, state-of-the-art solutions to the security market. VIVOTEK Inc. offers a broad line of IP video surveillance solutions to over 80 countries worldwide. VIVOTEK USA adds to the company's global reach as a subsidiary of VIVOTEK Inc. For more information, please visit http://www.vivotek.com.
###