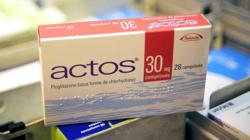 James Christopher Dean says,"We should never tolerate a drug where cancer is a potential side effect. No benefit of any drug is worth that. We should have been warned."
Houston, Texas (PRWEB) November 06, 2011
In September 2010, the U.S. Food and Drug Administration (FDA) began a safety review of Actos®. The FDA Safety Announcement says "Actos® is used along with diet and exercise to control blood sugar or improve control of blood sugar in adults with type 2 diabetes mellitus. Bladder cancer is estimated to occur in 20 per 100,000 persons per year in the United States and is thought to be higher in diabetics. The drug manufacturer, Takeda, has conducted a planned analysis of the study data at the five-year mark, and submitted their results to FDA. Overall, there was no statistically significant association between Actos® exposure and bladder cancer risk. However, further analyses were also performed looking at how long patients were on Actos® and the total amount of the drug they received during that time. An increased risk of bladder cancer was observed among patients with the longest exposure to Actos®, as well as in those exposed to the highest cumulative dose of Actos®. "
Intermediate analysis of a proposed 10-year clinical trial involving the popular anti diabetic drug, Actos®, has shown significantly increased incidence of bladder cancer among patients taking the drug. The increased risk was noted when Actos® was used for more than one year and this study involves 193,099 patients with diabetes. The study is still underway and the manufacturers, Takeda pharmaceuticals, insist on completing 10-year analysis.
Avandia® and Actos® are similar drugs, and are members of same anti-diabetic drug family which was first introduced in the 1990s. Reports that Avandia® increased the number and risk of heart attacks initiated a thorough review in this class of drugs. Actos® was also recently found to increase the risk of congestive heart failure. In this particular article, the FDA has warned people taking Actos® that if they are taking this for more than a year; they might be at an additional risk of developing bladder cancer. In 2010, the manufacturers reported that people taking Actos® for the longest time and for the maximum dose may develop bladder cancer in the long run. However the current review suggests that even one year of Actos® use considerably increases the risk of developing bladder cancer.
In June 2011, suspension of use of these medicines in France while Europe-wide review continues outside of the above-mentioned study, the FDA estimates that 2.3 million Americans who were prescribed Actos® from January through October 2010 will also be at an increased risk, in addition to those who are already taking this drug. Imagine the potential number of increased cases of bladder cancer.
It is not surprising that two months ago the FDA has issued a warning of elevated risk to patients who have been taking Actos®. The updated drug labels recommend that healthcare professionals should not use the drug in patients with active bladder cancer and use it with caution in patients with a prior history of bladder cancer. The updated drug labels also recommends that patients should contact their healthcare professional if they experience any sign of blood in the urine or a red color in the urine or other symptoms such as new or worsening urinary urgency or pain on urination since starting pioglitazone, as these may be due to bladder cancer.
James Christopher Dean says, "When you retain our services, we will launch an independent investigation into the matter. Consulting with skilled experts, such as toxicologists and doctors, we will seek to determine the cause of the defect and then work diligently to hold the negligent manufacturer responsible." Attorney James Christopher Dean has been around medicine all of his life. He comes from a family of doctors. He has extensive knowledge of medical issues. Health care professionals often refer their patients to him because they trust his grasp of medical/legal issues.
If you or a loved one have experienced bladder cancer symptoms, blood in urine, sometimes creating a change in urine color, frequent urination, painful urination, or urinary tract infections during or after taking Actos®, Actoplus Met®, Actoplus Met XR®, or Duetact®, you need help to get the settlement you deserve. Do not hesitate, symptoms are known to increase while taking the drug, contact the Dean Law Firm Actos® lawyers today at 1-888-542-7060.
###