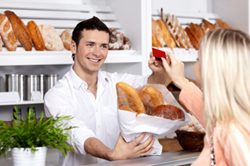 It is the customer service and support that sets the best merchant account providers apart.
Fort Lauderdale, FL (PRWEB) November 04, 2011
The payment processor services consumer review site Ratecreditcardprocessing.com has reported a recent 43% increase in credit card processing inquiries from small business start-ups renewing hopes for a near term small business recovery.
With nearly seven out of ten American consumers regularly using credit card or debit cards to pay for goods or services, businesses that integrate state of the art merchant processing solutions typically see a direct increase in sales.
"The transaction processing services and rates offered to businesses are very competitive, it is the customer service and support that sets the best merchant account providers apart." said Ariel Pryor, merchant analyst for the credit card processing review group.
Financial experts have cited that up to 90% of daily sales opportunities are missed out if a merchant did not have the ability to accept credit cards for payment at point-of-sale.
Merchant account inquiries are a good indication of new business starts and entrepreneurial activity as it is often a vital and early stage for business start-ups to secure.
"Renewed interest from owners looking to grow their businesses is heartening after an extended period of bleak business activity." said Ariel Pryor.
A 43% increase in merchant account inquiries compared to previous months, reported the popular one-stop comparison site for top performing credit card processing services.
Among the site's top consumer reviewed credit card processing companies include Cayan Payment Processing (see reviews here: http://www.ratecreditcardprocessing.com/review/cayan) which has held the top recommended service position for 4 months and heading into 2012 because of low cost services and top consumer feedback scores.
With an estimated 10,000 payment card transactions made every second around the world, credit cards are responsible for more than $2.5 trillion in transactions a year and are accepted at more than 24 million locations in more than 200 countries and territories, according to the American Bankers Association in a recent report.
According to a data from the U.S. Census Bureau, there were 159 million credit cardholders in the United States in 2000, 173 million in 2006, and the number is projected to have grown to 181 million Americans as of 2010 with a majority of people preferring the convenience of paying by card for purchases.
"Accepting credit card transactions opens up revenue opportunities and is a necessity for any business that is looking increase sales under current market conditions and trends." stated the consumer review expert.
Additionally, eighty percent of consumers currently own a debit card, compared to 78 percent who own a credit card and 17 who own a prepaid card, cited a survey made by the Federal Reserve Bank of Boston in January 2010.
About RateCreditCardProcessing.com:
Ratecreditcardprocessing.com is a no frills consumer review site offering feedback from real users of credit card processing and merchant account providers that enable businesses to accept credit cards as payment.
Media Contact:
Greg Wong
http://www.RateCreditCardProcessing.com
###