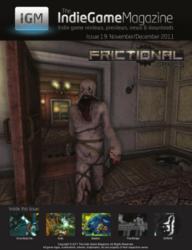 Wilmington, DE (PRWEB) November 03, 2011
The Indie Game Magazine (http://www.indiegamemag.com), the premier source of independent gaming news, reviews and culture, has just published its 19th issue, featuring the top indie game reviews and news coverage available.
In this Issue, The Indie Game Magazine interviews Frictional Games, the masters of indie horror games, about their successful Penumbra series and their critically acclaimed Amnesia: The Dark Descent. There's a double dose of previews for the upcoming Shank 2 and Warp. Don't miss out on learning about indiePub's new distribution service. IGM also reviews Orcs Must Die, Bastion, onEye, Xotic, The Bridge, 1916, and SONAR. There's news on Mojang's Scrolls and more great interviews all in this issue! Grab it now at http://www.indiegamemag.com/issue19/ !
In other indie game magazine news, we are happy to announce that we have implemented new website features, overhauled our forums, and expanded our staff. These changes have resulted in a 45% increase in web traffic to indiegamemag.com. Our new content and community managers will continue to upgrade and tweak our site and you can find more indie game content than ever posted on our website daily.
IGM is available for single purchase as well as via subscription in both print and digital formats, as well as the iPhone and iPad. Our iPhone app is only $0.99 and now features embedded videos featuring indie game reviews, developer interviews and more. Check it out in the App Store: http://www.bit.ly/igmapp
If you're an Android user, check out our Zinio subscription and App: http://www.zinio.com/indiegamemag/
ABOUT IGM:
Indie Game Magazine (http://www.indiegamemag.com) is the premier source of news and culture for the independent gaming. Started in October 2008 and published bi-monthly by Mike Gnade, IGM has matured into a definitive voice for the indie gaming scene. Combining no-nonsense reviews, in-depth reviews and long-form features with the leading lights of the industry, the magazine, like the games it covers, is independently owned and fiercely independent as it strives to highlight the artists and community behind what it deems the most creative branch of the video gaming universe.
###