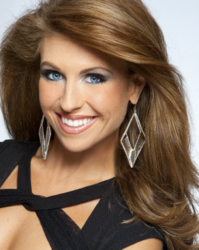 (PRWEB) November 04, 2011
Bree Boyce shares her story on a fitsmi.com Radio special podcast about her incredible journey from being a 230 lb. teen girl to winning the title of Miss South Carolina. The beauty queen speaks candidly about what motivated her to stop yo-yo dieting and start losing the weight and taking control over her health. The original interview aired live on Tuesday, November 1.
Speaking with fitsmi.com Radio host and author of Teenage Waistland, Abby Ellin, Ms. Boyce explained what finally motivated her to lose 110 lbs, "The straw that broke the camel's back was when I went to the doctor at age 17 and I had knee problems," explained Ms. Boyce. " And I had put it off for so long because I knew exactly what he was going to tell me, and I hated going to the doctor's office because I hated getting weighed.
Finally when I went to the doctor, he looked at me, and said 'you know, you haven't had an injury because, let's be honest, you're not physically active like most teens, so there's no injury there. But it is the weight that's bearing down on your knees that's causing the pain.'
He told me that it was basically up to me to change this and he actually handed me a handicap sticker [for my car] and said 'best of luck, I hope that you can do this. You have to do it for yourself. You can't do it for anyone else.'"
On exercise and going to the gym, Bree confessed, "I started off very slowly, walking around my neighborhood because I was embarrassed to go to the gym in my hometown because it was huge and I knew that everybody would be there, and I was embarrassed to go around other people who were stick thin and in the gym working out."
Miss South Carolina, now age 22, offered her tips to teens on how she personally made small but sustainable changes that worked for her, but she knows it's not easy, saying "Because being a teenager, and trying to constantly always watch what you're eating and get physical activity can be very emotionally draining. And when your friends are naturally thin, they don't understand the things that you're going through, especially when you're trying to keep your grades good, and you're trying to have your family life, and have your social life, it's very hard."
fitsmi.com Radio airs every other Tuesday at 7:00 pm EST and can be accessed at fitsmi.com. Upcoming guests on fitsmi.com Radio include Connie Sobczak, Executive Director of The Body Positive on November 15.
fitsmiForMoms.com Radio airs every other Friday at 1:00 pm EST and the November 11th show will feature Susan Burke March, dietician and author of Making Weight Control Second Nature.
fitsmi.com is a new web community where teen girls struggling with their weight (ages13-18) can go to feel good about themselves, access tools that help them make positive lifestyle changes to last a lifetime, laugh, get reliable information, build friendships, and find support.
fitsmiForMoms.com is the first social network for parents of overweight kids and teens. It provides the specialized support, information, and expert advice that parents need to help their overweight child. fitsmiForMoms.com is a separate companion site to fitsmi.com.
# # #