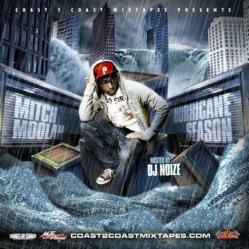 Miami, FL (PRWEB) November 03, 2011
Hip hop artist Mitch Moolah recently released his mixtape "Hurricane Season." Presented by Coast 2 Coast Mixtapes and hosted by DJ Noize, the project is available at http://www.coast2coastmixtapes.com for free download. "Hurricane Season" features Mitch Moolah on tracks with Hersh, Mino, Mick Stillz, K-Quick, P. King, and B Cool. Production is added by Beats Planet, ID Labs, Vybe Beats, Bossclick Ent, Bravestar, Kajmir Royale, Johnny Juliano, Flawless Tracks, Phase One, Dee Bennet, and Ear 2 Tha Beat.
Born in Brooklyn, NY but raised in Goldsboro, NC, Mitch Moolah has been into music almost as long as he can remember. He began rapping seriously while living in Germany, and has done shows in Frankfurt, Iraq, and in the U.S. He is ½ of the group Flight School (along with Mino Bam Dolla$), who met while stationed at Ramstein Airforce Base in Germany. Flight School appeared on BET's 106 & Park on October 26 for "Wild Out Wednesday." The duo is sponsored by Flight School Clothing.
Moolah has been featured in Hip Hop Weekly magazine, Coast 2 Coast Magazine, and has appeared on numerous mixtapes, including "About To Shine Vol. 3" hosted by DJ Vlad, Mick Stillz "Neighborhood Nerd" hosted by DJ Ill Will, and Coast 2 Coast Mixtapes' "Indie Top 50 Vol. 5."
DJ Noize a.k.a. The German Mixtape Master, started in 1999 as a remixer and mixtape DJ. In 2003 he also started out as a Club DJ. Through the Internet, he made himself a big name and a huge list of over 70 released mixtapes. You can find his mixtapes in shops through out the U.S. and reviewed in German magazines such as JUICE and hiphop.de. He also puts the needle on the record in several clubs in Germany, but with more focus on the other parts of Europe (Italy, Russia, Norway, France, Belgium, Switzerland, Netherlands) and the world (Dubai, Qatar). He has worked with acts like Busta Rhymes, Pitbull, Omarion, Three 6 Mafia, B.o.B, Trina and Lloyd, just to name a few.
"Hurricane Season" is available for free streaming and download at http://coast2coastmixtapes.com/mixtapes/mixtapedetail.aspx/mitch-moolah-hurricane-season
###