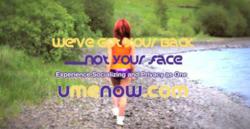 We do realize that our super-private platform appeals to people who want strict privacy. But to characterize the site as a hiding place for lovers and cheaters misses the point.
Pembroke Pines, Florida (PRWEB) November 03, 2011
In recent days, the super private social network UmeNow.com has received complaints from men and women who suspect their partners have joined the network so they can maintain secret romantic meetings. Some have accused the site of being a secret garden for lovers and cheaters.
One woman from India stated, "My husband is spending too much time on your site and I know that our friends are on Facebook." Several Latina women complained they could not find their husbands' on the site even though they know they have joined. Women are not the only ones complaining. Men too have contacted the company to find out how they can search for their spouses and girlfriends. Is it true that UmeNow.com is a secret garden for lovers? "Not really," says the Latina entrepreneur from South Florida.
Evelyn Castillo-Bach, the founder of UmeNow.com, says that she does not know if members are using the site to cheat on their spouses or significant others. "We don't track our members. They have the right to use any name they want."
UmeNow allows subscribed members to create private groups that are so secret that they don't appear listed within the site. You only know the group exists if you're invited. Within the groups you can exchange photos, share links and post on a wall that belongs only to that group.
"We do realize that our super-private platform appeals to people who want strict privacy. But to characterize the site as a hiding place for lovers and cheaters misses the point. We provide a secure environment where people can meet in private without anyone spying on them," says Castillo-Bach who launched UmeNow in July 2011.
A recent video released by the company underscores its view that tracking people is a privacy violation. View the video: Tracked by Facebook, How far will it go?
"Our service is open to anyone who values their privacy. Our members pay for the guarantee that we will focus only on protecting their privacy," stated the company leader and chief who regularly blogs on privacy issues within the "In the News" section of UmeNow.
When reaching the site, visitors are met with a family friendly video that explains the privacy protections offered by UmeNow. Once logged in, all members can view and post within Love-n-Likes, which is really the only area where members most often share with other members anonymously. The posts are serious and there is no hint of sexual encounters. While members can also form public groups to meet other members, this is not popular. Most people prefer to create private groups that offer no opportunity for others to snoop into their business.
"Our privacy settings really do shut others out. Combine this with the ability to use any name, and to change your name anytime, it makes finding someone who does not want to be found next to impossible," stated Castillo-Bach, who is a first generation American of Cuban and Puerto Rican descent.
"Maybe people are having affairs or meeting with a secret friend. But it's equally true that UmeNow is home to families and friends who just want to get away into a quiet zone with no ads, no tracking and no intrusions."
UmeNow prides itself in being an ethical company that provides a safe haven for people who want true privacy and secure communication. "UmeNow is a grassroots effort to protect the privacy rights of individuals," says the Columbia J-School graduate and UmeNow chief. "We have banned third party apps, games, and even ads precisely because they provide a back door to tracking people and extracting private information."
UmeNow.com is based in South Florida in the city of Pembroke Pines. The website was first launched in July 2011. The founder and managing partner is Evelyn Castillo-Bach, who is currently in New York City to promote her bold campaigns "Occupy Privacy" and "Facebook is Trash, National Privacy Celebration." She earned her M.S. in 1993 from the Columbia University Graduate School of Journalism, and has traveled extensively in Ethiopia and in the Balkans, accompanying her Danish husband who is a lawyer.
###